Newspaper Profiles Gretchen Haehl '08, a National Champ at DePauw and Now a Stanford Graduate Student
March 19, 2014

"Gretchen Haehl was the first Shelby County girl to score more than 1,400 points in her career," begins a story in Indiana's Shelbyville News. "Three years later, Haehl and her twin sister, Gwen, helped DePauw University win a national championship. Now 10 years after her graduation, Haehl is still Shelbyville High School's career scoring leader -- and its last Indiana All Star."

Jeff Brown writes, "Haehl spends long days on the campus of Stanford University where she is attending graduate school with a little help from Eli Lilly, where she worked for five years after graduating from DePauw ... She still has roughly 18 months left to finish her degree before she returns to Indiana to continue working for Lilly."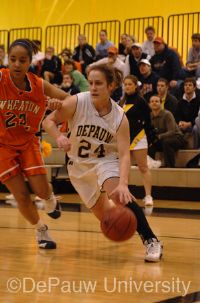 The Haehls are 2008 graduates of DePauw. Gretchen Haehl (pictured at left), who worked in Lilly's finance department for five years, tells the newspaper, "The company is great. What they're doing (for me) shows the company cares about your personal development and your career development."

An Indiana All-Star as a high school player, Haehl and her sister were members of the 2007 national championship team at DePauw. An economics and Spanish double major and a Management Fellow, Gretchen Haehl has also served as an assistant basketball coach at Fishers High School. She is working toward her M.B.A. at the Stanford Graduate School of Business.
You'll find the complete article at the paper's website.
Back