DePauw Roots of Celtics Coach Brad Stevens '99 Explored in Indy Star Article
May 6, 2017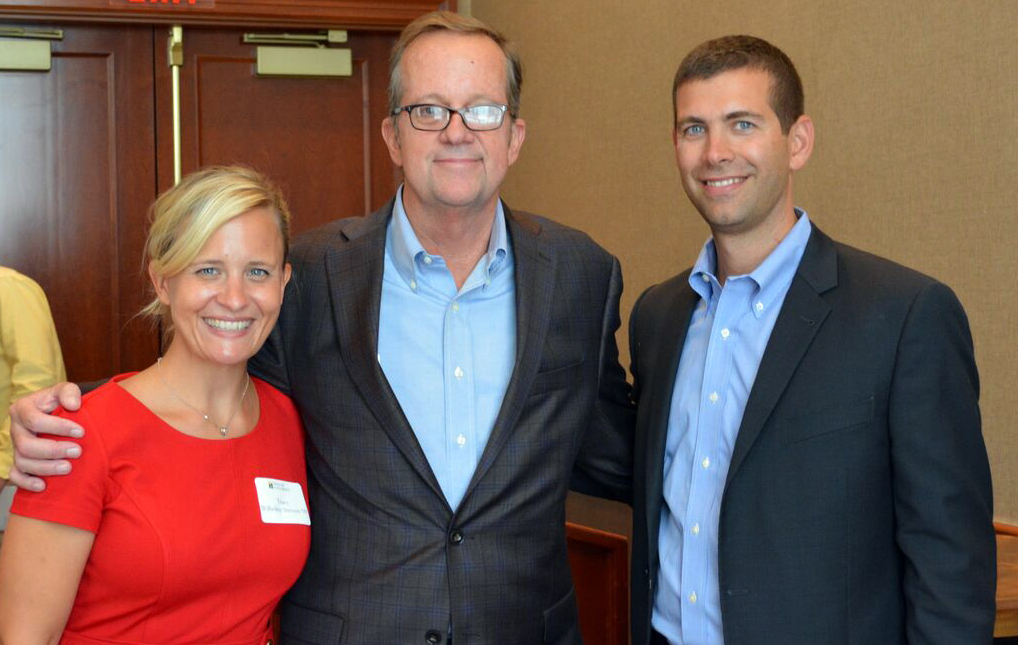 "He learned how not to be from me," says DePauw University head men's basketball coach Bill Fenlon of his former player Brad Stevens, now the head coach of the Boston Celtics. "When he played for me, I was still a pretty young guy. I was a lot more excitable than him. I don't think he really liked that about me." (photo, l-r: Tracy Wilhelmy Stevens '99, Bill Fenlon, Brad Stevens '99)
An Indianapolis Star feature on Stevens, a 1999 DePauw graduate whose team had the best record in the NBA's Eastern Conference and is in the playoffs. The piece includes several quotes from Fenlon and DePauw references.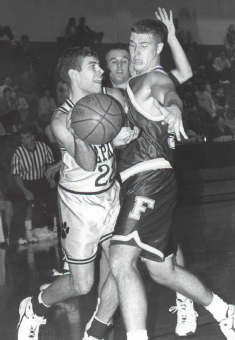 Fenlon tells the newspaper, "Watching him now is more surreal than it is for most people. You look at the TV, and there's the guy you were screaming at for taking a bad shot. He's standing there coaching the Boston Celtics."
Dr. Mark Stevens, Brad's father, was orthopaedic consultant to DePauw's athletics programs for more than 30 years. "Whenever an NBA team would call Brad, he'd frequently call Bill Fenlon to get his input," he recalls. "Bill's response would always be, 'Well, it's not the Celtics.' This time, Brad called coach Fenlon and said, 'The Celtics are knocking on my front door right now.' This time Bill said, 'Well, it's the Celtics.'"
Clifton Brown writes, "Stevens seemed headed for a successful business career after graduating from DePauw on the dean's list in 1999 with a degree in economics. He became a marketing associate at Eli Lilly in Indianapolis, but his love for basketball kept tugging until he could no longer resist." He wound up leaving Lilly for a volunteer coaching position at Butler University, eventually rising to head coach and leading the Bulldogs to back-to-back appearances NCAA championship games in 2010 and 2011.
Fenlon is asked whether Stevens would become a coach after graduation from DePauw. "No. He was a very conscientious student. He's a guy you could look at and tell he'd be great at whatever he did -- really smart, really driven. I thought he'd be making a ton of money, I just didn't know it would be in the NBA. Guys want me to say I saw his coaching career coming. I didn't. If I saw it coming, I'd be doing way better in the stock market."
Fenlon tells the Star, "I think some of his coaching approach was formed here. When you grow up a high school player in Indiana like Brad and you score a bunch of points, it's harder to accept when your playing time gets cut. Brad still played as a senior, but not as much. But as a coach, Brad can relate to every guy. He can relate to the guy who's taking every shot, and he can relate to the guy he's asking to make sacrifices for the good of the group."
You'll find the story -- headlined "Former Butler coach Brad Stevens calmly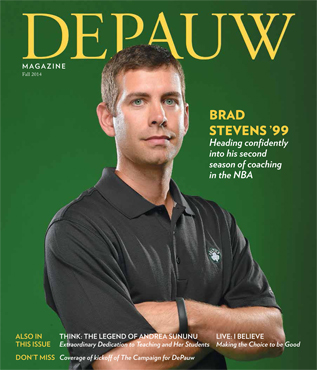 leads Celtics through playoff storms" -- at IndyStar.com.
At DePauw, Brad Stevens was an economics major and Management Fellow and played four years on the Tiger basketball team, earning all-conference and academic all-conference honors.
"My experience at DePauw was about as beneficial as any experience I've had," he told ESPN.com in November 2013.
On April 13, 2010, Stevens returned to his alma mater to deliver the Robert C. McDermond Lecture.
In 2015 Brad Stevens received the University's Young Alumni Award at a luncheon in downtown Indianapolis. At a fundraiser that evening, Stevens related how his college coach, Bill Fenlon, has impacted his life and career.
Source: Indianapolis Star
Back