Dave Hoover '67 to Receive Old Gold Goblet Over Alumni Reunion Weekend, June 7 - 11
May 26, 2017
R. David Hoover, retired chairman, president and chief executive officer of Ball Corporation (NYSE: BLL) and 1967 graduate of DePauw University, will be honored during the 50th reunion of his graduating class with DePauw's Old Gold Goblet. The award, which is given annually to recognize "eminence in life's work and service to alma mater," will be presented during an Alumni Reunion Weekend dinner and celebration of alumni achievement on Friday, June 9.
Hoover, who serves on DePauw's Board of Trustees and is past chair of the board, joined Ball in 1970 and rose through the company's ranks to be elected president and chief executive officer in 2001 and chairman of the board in April 2002.
Ball Corporation is a provider of high quality packaging for the beverage, food and household products industries, and of aerospace and other technologies and services to commercial and governmental customers. A key architect in transforming Ball Corporation into a high-tech, diversified enterprise, Hoover guided the
company's focus on growth and innovation, while also advancing its sustainability efforts.
Hoover's many awards include being named one of the "Best CEOs in America" by Institutional Investor magazine and being presented the University of Denver's "International Bridge Builders Award" in 2006. He retired from Ball as chief executive officer in January 2011 and as chairman of the board in 2013. DePauw University Trustee since 2002, Hoover is national co-chair of The Campaign for DePauw. An economics major at DePauw, he earned his M.B.A. from Indiana University and also completed the Advanced Management Program at the Harvard University Graduate School of Business.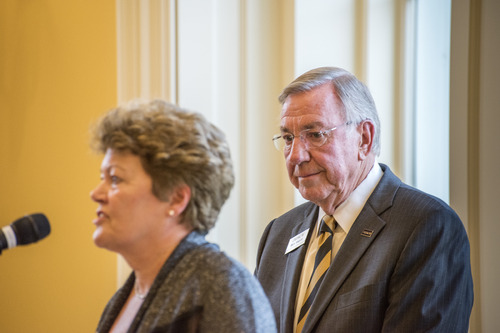 Dave and Suzanne A. Hoover '67 provided the lead gift for Hoover Hall, DePauw's new 48,600 square-foot dining hall, which was dedicated on October 28, 2016 over Old Gold Weekend. The day before, the Hoovers were among six alumni whose contributions to DePauw were celebrated with the unveiling of new portraits on campus. For many years, the Hoovers have provided student scholarships through their loyal support of The Fund for DePauw and pledged $9 million to augment the R. David and Suzanne A. Hoover Endowed Scholarship.
Past recipients of the Old Gold Goblet include Percy L. Julian '20, Robert H. Farber '35, Vernon E. Jordan Jr. '57, Joseph P. Allen IV '59, James R. Bartlett '66, Sarah Reese Wallace '76, Timothy H. Ubben '58, Joseph P. Allen IV '59, Judson C. Green '74, Mike Smith '70, Don R. Daseke '61, and James B. Stewart '73.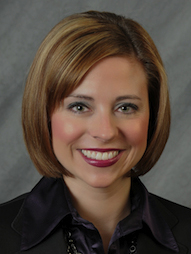 Lawren K. Mills (pictured at right), a partner in the law firm of Ice Miller in Indianapolis, will be presented with the Young Alumni Award on June 9. Alumni Citations will be awarded to Kevin R. Armstrong '82, senior vice president and chief mission and values officer for Indiana University Health, and Dennis E. Bland '87, president of the Center for Leadership Development, an Indianapolis not-for-profit dedicated to empowering African American youth for academic, college and career success.
In addition to opportunities to see friends and classmates, Alumni Reunion Weekend's events will include a series of faculty-led Alumni College discussions and a conversation with President D. Mark McCoy on the state of the University.
Alumni Reunion Weekend information and registration are available through this link. A list of registered alumni is available here.
Back