Local Paper Offers Summary of ESPN Founder Bill Rasmussen's ('54) Ubben Lecture
November 10, 2017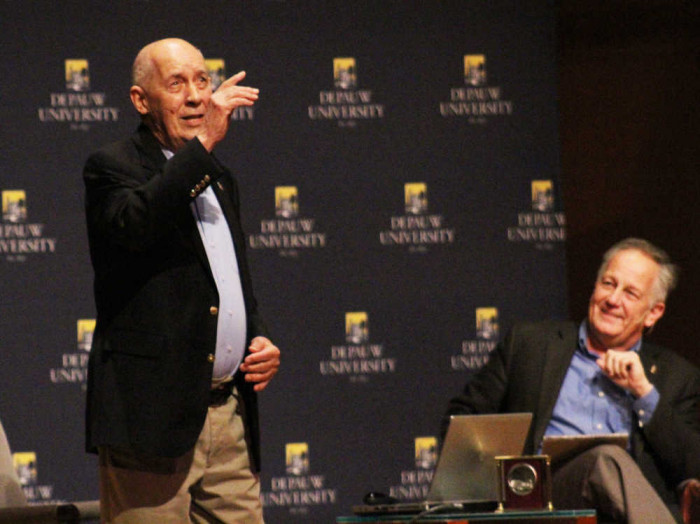 "Although ESPN celebrated just its 38th anniversary a couple of months ago, the cable television leader in televised sports programming has undergone many changes during that brief tenure," begins an article in the Banner-Graphic of Greencastle. "Bill Rasmussen, a 1954 DePauw graduate, has been on campus all week speaking to several different student groups and making other appearances during Monon Bell Classic week," writes Joey Bennett.
"One of those appearances was Wednesday night during the most recent installment of the Ubben Lecture series, when he described the origin of the 24-hour sports programming network. Rasmussen spoke for about an hour, and answered questions from several audience members after encouraging the largely student-based audience to 'always be curious' and to 'always ask questions' no matter what they do in life."

Rasmussen noted, "The ability to do things now online [through streaming and podcasts] has spread the ESPN ability to dispense sports. Some of the things that we thought were great have been improved. We started with one SportsCenter a night, and now there are 10."
You'll find the complete column at the newspaper's website.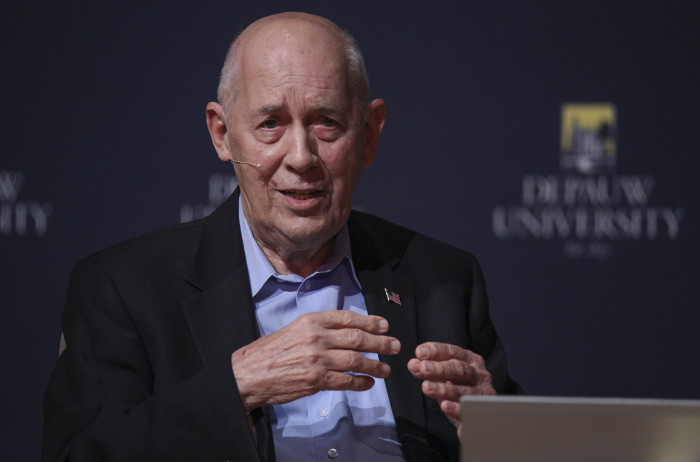 Bill Rasmussen has been called "the George Washington of ESPN" (by longtime anchor Chris Berman) and "a guy whose idea gave birth to, arguably, the most successful media story of our time" (by Jim Miller, co-author of the best-selling book, Those Guys Have All the Fun: Inside the World of ESPN). He's on the Media Wall of Fame at DePauw University's Pulliam Center for Contemporary Media.
His Wednesday night Ubben Lecture, "Finding Your Passion, Realizing Your Dream", is summarized here.
Source: Greencastle Banner-Graphic
Back