Interviewing Celebrities and Teaching DePauw Students Makes Prof. Tom Chiarella "Lucky"
July 11, 2013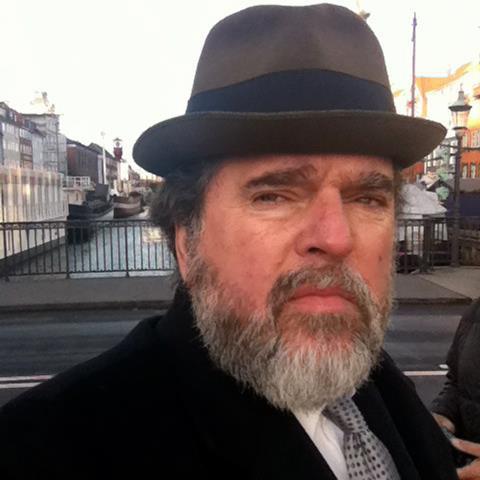 "People tell me that all the time, that I'm lucky," writes Tom Chiarella, visiting professor of creative writing at DePauw University, in Indianapolis Monthly. "I have a contract with Esquire, with the title 'writer-at-large.' And I don't care what your impressions are; Esquire is an inventive, well-edited magazine that prides itself on being a smart vehicle of the moment. It's less austere than some, less pretentious than others, less concerned with the history of Hollywood than most, but the fact remains: The magazine often features celebrities on its cover. In most people's minds, this is where my luck resides."
In the Monthly's July issue Chiarella -- who has taught in DePauw's English department since 1988 -- offers a look at his dual life as a high-profile contributor to Esquire and a professor at a small liberal arts college. As he points out, "I often get to write these cover stories, these celebrity profiles. I've written about Charlize Theron, Liam Neeson, Morgan Freeman, James Franco, Clive Owen, Kate Beckinsale, Ryan Gosling, Tom Brady, Guy Ritchie, Halle Berry, Ben Affleck, Billy Crudup, Ashton Kutcher, Brooklyn Decker, and Bill Clinton. I'm leaving people out.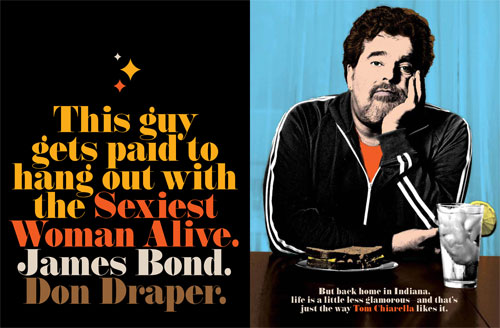 Do I get excited to fly off to meet Daniel Craig for lunch in London? Sure. I like traveling, enjoy hotel rooms, don't mind eating room service. I feel like I can get myself anywhere, on any dime, without any worry to my bosses. But the moments before meeting the subject are like a low-grade migraine, like sleeping on a nervous mattress. I feel out of place, disjointed and forgetful. I want to turn and go home. To Indiana. I figure most of the celebrities would have no idea where to find me, and not one of them would look. But, in those moments, I keep myself moving forward. I step into the restaurant, climb into the car, ring the bell."
Chiarella recalls, "When I interviewed Ryan Gosling two summers ago, he promised to mail me something -- a diorama he'd pictured after a conversation we had about haunted houses. Whatever. They are sometimes inexplicably weird, these people. I gave him my address, which features a collegiate-sounding street name and, of course, the ambitious compound image of the word 'Greencastle.' He drew his lip upward in mock indignation: 'Seminary Street?' he said. 'Green-castle? Indiana?' I shrugged.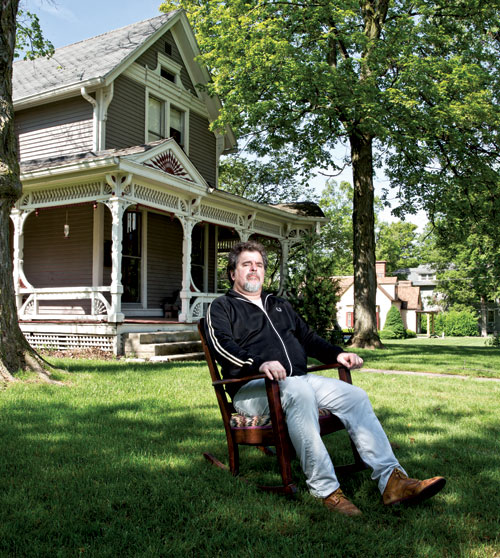 'Where do you live?' Gosling asked. 'Heaven?' "
The writer observes, "At one end of my street, there's a pretty good college baseball field set in a dell, so sitting on the left-field line with my dog is never out of the question unless it's raining. The other end of that street? The university president's home. Stately. Plenty of trees. On Saturdays, there's a decent farmers market, where I often buy obscure cuts of lamb from an organic farmer. Sometimes, I really do think it is that place that Ryan Gosling suggested. My sons grew up here. And that sounds like heaven, right there."
The former chair of DePauw's English department, Tom Chiarella is the author of three books -- Foley's Luck, Writing Dialogue and Thursday's Game: Notes from a Golfer with Far to Go -- and his work was included in The Best American Magazine Writing 2009. He shares with Indianapolis Monthly readers, "Sometimes, people say 'I want to be you.' And I know they can't mean it. What they want is to meet and spend time with movie stars. They always grant me too much credit in that regard. When an interview is over, I always shake hands and know that I'll never see this person again. That if there was a whiff of friendship, it will be forgotten when they shoulder out into the city."
The professor, who began his career as a fiction writer, declares, "For a while, I just read and taught. I never considered myself a failure. DePauw is an excellent school, and teaching is honorable when done right.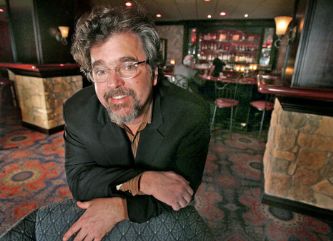 Eventually I came to see that no one can trace precisely the path that will lead them to the place they hold -- not movie star, not mayor, not college professor nor captain of industry. That's why people tell stories, why they write them; it's the why of profiles, the description of a life. At some point in 1996, a New York editor threw me a bone: Write a story about your softball team. Easy! I knew everything about those guys, my friends and heroes. I turned in the story on deadline. Eventually, I got another. I tried to be reliable and inventive. I tried to make people laugh. I was being read again."
The July issue is available on newsstands now, and the article is also available online.
Back