Gotham Star Drew Powell '98 Sits Down for an Interview with CNBC's Jon Fortt '98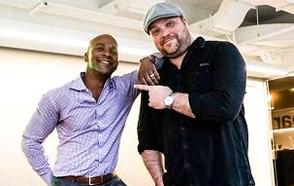 January 16, 2017
"I'm not just a Drew Powell fan, I'm also a friend," notes CNBC's Jon Fortt. "The two of us met as teenagers on the campus of DePauw University in Greencastle, Indiana, longer ago than we'd like to admit. Along two completely different career paths our journeys took us from Indiana to New York by way of California, with a few other adventures in between."
Fortt interviews Powell, an actor who portrays Butch Gilzean in Fox's hit series Gotham, for his Fortt Knox podcast. Both men are 1998 graduates of DePauw.
On CNBC's website, Fortt asks, "It's worth paying attention. For kids with visions of stardom, Hollywood dreams rank up there near hoop dreams in the unlikely category. There are only so many hit shows on TV, and so many recurring roles. So how did Powell make it? Drew packed up his car two weeks after college graduation and headed out to L.A. He knew as well as anyone the clichés about waiters (and now Uber drivers) with screen ambitions. So he took a pragmatic approach to his journey as an actor."
Access the piece here.
Fortt graduated from DePauw with a major in English (writing) and as a member of the Media Fellows Program. He joined the business news network as technology correspondent in July 2010 and came to CNBC from Fortune magazine, where as a senior writer he covered both large technology companies -- such as Cisco, Hewlett-Packard and Microsoft -- and trends, including cloud computing and the smartphone revolution. Fortt received DePauw's Young Alumni Award in 2014.
An English (literature) major and Media Fellow at DePauw, Powell's resume includes a role in the big screen remake of Straw Dogs. He's also made appearances in The Mentalist, NCIS: Naval Criminal Investigative Service, Grey's Anatomy, Modern Family, Castle, Necessary Roughness, Bones, Leverage, Malcolm in the Middle, True Blood, CSI, Ponderosa, The Office, 1408, House, Psych, Memphis Beat and ER. He also performed in The Pee Wee Herman Show on Broadway.
Back