Winter Term Course in 'Environmental Awareness' Gets Newspaper's Attention
January 19, 2017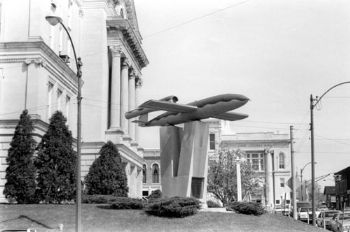 "During Winter Term this month, DePauw University students have gone galloping off to the Galapagos Islands, cruised to Cuba, explored Ecuador and made a jaunt to Japan," begins a story in Greencastle's Banner-Graphic. "Meanwhile, two dozen of them have spent January expending shoe leather in seeking out the soul of Greencastle in a class titled 'Outside: A Course in Environmental Awareness,' led by English professor and poet Joe Heithaus."
"I thought it would be cool to have a class where every day is a field trip," the professor tells the newspaper.
Eric Bernsee reports that Heithaus has sent his students "on a scavenger hunt, walking east as far as McKim Observatory, west as far as the city sewage plant, south to Main Street and Broadway 'to make sense of why it's there,' and north to the old hospital, where they had to resort to word of mouth to find it since it's apparently not on Google Earth on their phones, the professor said. They've walked to the quarry on a snowy day and checked out ancient fossils, learning from Professor Scott Wilkerson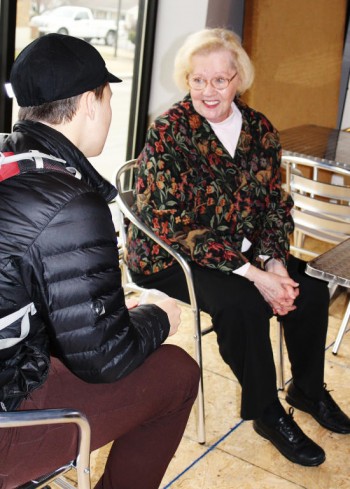 how the glaciers came this way via Lake Erie and how the preponderance of Indiana limestone quarries essentially starts here and heads south because of those glaciers. They've hoofed it over to Buzzi Unicem (Lone Star) where Bob West showed them the remains of an old kiln that reportedly dates back to the 1850s and walked to the Putnam County Museum and met with local historian Larry Tippin. The course, Heithaus said, is an opportunity for participants to better understand themselves -- not just as DePauw students, but also as citizens of Greencastle and the natural world."
The professor says, "Now that they've walked through town, they're more invested in this place."
Jinsie Scott Bingham, a lifelong Greencastle resident and member of DePauw's Class of 1956, shared stories with the students Monday. "Greencastle and DePauw 'have been good friends, solid friends' throughout the years, she said, calling DePauw the city's 'best friend' since the school was established" 180 years ago.
You'll find the complete article here.
Source: Greencastle Banner-Graphic
Back