Scholarship at New College of Florida Will Honor Author John Jakes '53
February 26, 2017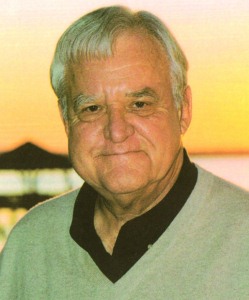 "A new scholarship honoring historical novelist John Jakes is being created at New College of Florida by the Rotary Club of Sarasota and friends of the author," reports the Sarasota Herald-Tribune. "The John Jakes Endowed Writing Scholarship will support students who focus on writing in their studies."
Jakes is a 1953 graduate of DePauw University and has been called America's "godfather of the historical novel" by the Los Angeles Times.
The Sarasota newspaper's Jay Handelman writes, "Jakes, who lives in Sarasota, has written 17 New York Times best-selling books, including eight novels in the Kent Family Chronicles, which were published in the 1970s. More than 55 million copies of the 'Kent Chronicles' have been sold. He also wrote the North and South trilogy, which has sold 10 million copies and was turned into one of the top-rated television miniseries of all time."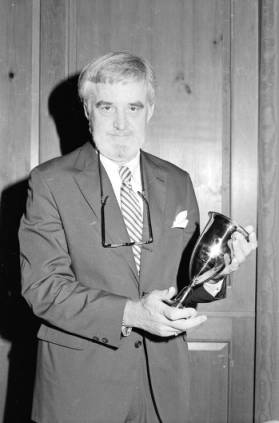 Access the complete story at the paper's website.
An English major as an undergraduate and a former member of the University's Board of Trustees, John Jakes delivered the commencement address to DePauw's Class of 1995.
"DePauw's goal, it seems to me, is to provide the best possible four year liberal arts education, but also an awareness of how much more there is to learn," he noted in the speech. "DePauw doesn't turn out narrowly trained technical specialists like so many Pentium chips, one after another." (at left: Jakes receiving DePauw's Old Gold Goblet in 1984)
Video of the speech is embedded below.
Source: Sarasota (Fla.) Herald-Tribune
Back