DePauw is "An Amazing School", Adobe VP Sarah Gormley '94 Tells Forbes
May 24, 2017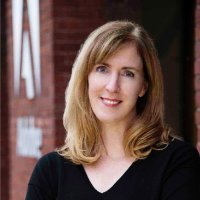 "After 16 years in NYC, the last few spent as chief marketing officer for the marvelous leadership factory that is the Girl Scouts, Sarah Gormley joined Adobe as VP, Brand Marketing in October 2015 and made the cross-country trek to the Bay Area," begins a Forbes article. "She leads a team for the Adobe brand in an entirely new (to her) industry." The piece notes that Gormley, a 1994 graduate of DePauw University, has "an infectious enthusiasm for change and adventure."
Asked about the best advice she's received, Gormley tells the publication, "When I was a college freshman, just cut from a sorority and desperate to transfer to the school my brother attended, my mother said, 'It's not where you are that makes you happy, Sarah. YOU make you happy.' I think about that quote at least once a week. I also think about everything I gained from staying put at DePauw. It's not only an amazing school where I'm now on the alumni board, it's the place I first met my wonderful crew of lifelong friends -- all because my mom was right, of course."
Read more here.
An English (literature) major and Honor Scholar at DePauw, Gormley's career in nonprofit and corporate marketing and communications also includes working with IMAX and Martha Stewart Omnimedia. She's the subject of this past piece.
Source: Forbes
Back