Latin American Artist Liliana Porter Featured in Emison Exhibit
August 17, 2000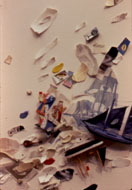 August 17, 2000, Greencastle, Ind. - The Emison Art Center at DePauw University has scheduled its first exhibition of the 2000-01 season. "The Space Inside the Mirror: Liliana Porter" will be on view from August 24 through Sept. 24.
Special events will take place on Monday, Sept. 11, beginning with slide and video presentations -- 11 to 11:50 a.m. in Spanish and 4 - 4:45 p.m. in English -- at the Roy O. West Library, media room. A reception and gallery talk by Porter will follow from 5 - 6 p.m. at the Emison Art Center.
"The Space Inside the Mirror" features 14 multimedia works -- photo-silkscreens, paintings, works on paper, and photographs -- that depict objects from mass culture, such as colorful toys or souvenirs. Porter places these objects in carefully composed sets and creates a clever and personal type of conversation within the works.
Born in Buenos Aires, Argentina, Porter moved to New York City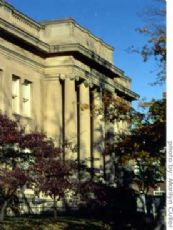 in 1964. Her art work voices her history as a Latin American. Porter has exhibited nationally and internationally -- showing in Buenos Aires and Murcia, Spain, this year, as well as in New York. Her work is represented in numerous museum collections, including New York's Museum of Modern Art and the Metropolitan Museum.
She received the Guggenheim fellowship from the New York Foundations for the Arts and the Civitella Ranieri Foundation Fellowship, Umbertide, Italy. Currently, Porter is a professor of art at Queens College, The City University of New York.
The Emison Art Center Gallery is located at 309 S. College Avenue, Greencastle. Hours are Monday through Friday, 9 a.m. - 4 p.m.; Saturday, 10 a.m. - 4 p.m., Sunday, 1-5 p.m. Call (765) 658-4336 for further information.
Back