635 New Students Join DePauw for Start of Classes on Thursday
August 18, 2000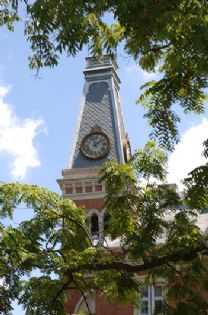 August 18, 2000, Greencastle, Ind. - DePauw University is welcoming 635 new first-year students to campus this week to begin the 2000-01 academic year. Fall semester classes start on Thursday, Aug. 24.
The Class of 2004 is drawn from the largest number of applications in the University's history. A total of 3,040 prospective students applied for a place in the freshman class.
The record number of applications enabled DePauw to meet its enrollment goal for the entering class immediately following the May candidate reply deadline. "This indicates that demand for DePauw among high school students is increasing," said Madeleine R. Eagon, vice president for admission and financial aid. "We're very pleased not only with the number, but also the quality of the applicants."
DePauw legacies continue to be a significant part of DePauw's admission picture, and 18 percent of the entering class has alumni ties. Eagon said, "We had a good year of recruiting students with alumni ties. The loyalty of DePauw alumni who recommend DePauw to their family members is heartening."
The entering class also includes about 100 Holton Scholars, a prestigious scholarship program in its third year that provides up to full tuition for deserving students. More than 500 prospective students applied
for the scholarships from the Ruth Clark and Philip Forbes Holton Memorial Fund.
DePauw received a gift of $128 million from the estates of the Holtons, both members of the Class of 1929, for the purpose of providing scholarships. The largest-ever gift to a liberal arts college, the Holtons' gift aided the success of The Campaign for DePauw: Leadership for a New Century, which reached a total of more than $374 million as of the Gala Celebration on April 28-29.
Students from Indiana make up 52 percent of the entering class. There are 349 female and 286 male students. The Class of 2004 also has 11 percent multicultural students, not including international students.
DePauw's total enrollment is approximately 2,200 students.
Back