DePauw University is Ranked 39th Among National Liberal Arts Colleges by US News & World Report
September 1, 2000
September 1, 2000, Greencastle, Ind. - DePauw University is ranked in the Top 50 of the Best National Liberal Arts Colleges in the annual "America's Best Colleges" rankings released today by U.S. News & World Report. The magazine ranked DePauw in a tie for 39th among the top liberal arts colleges in the country.
Of the more than 1,500 private, four-year institutions of higher education in the country there are 162 institutions that qualify for ranking in the Best National Liberal Arts Colleges category. According to U.S. News, the category includes colleges that "emphasize undergraduate education and award at least 40 percent of their degrees in liberal arts disciplines." The number one-ranked national liberal arts college is Amherst College in Massachusetts.
DePauw President Robert G. Bottoms said, "We believe this ranking in the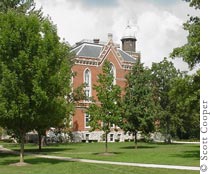 top tier of the nation's liberal arts colleges is a reflection of the significant investments in faculty, students, and programs made possible by the extraordinary support of alumni and friends."

On April 28, DePauw announced that it had raised more than $374 million in the Campaign for DePauw: Leadership for a New Century. More than 17,000 of the University's alumni participated in the comprehensive campaign, which was launched in October,1996.
Bottoms said one of the key initiatives has been to add more professors to DePauw's outstanding faculty, bringing the total to 202, the largest in DePauw's history. Greater funding is now available for programs that allow faculty to engage in projects to improve teaching and pursue areas of scholarship.
A result of increasing the number of faculty is that DePauw's student-to-faculty ratio has been further reduced to 11:1.
DePauw also is now able to provide more scholarships to attract high potential students and assist those
with demonstrated financial need. Because of students' increased interest in DePauw, the University received a record number of applications this year.
An innovative new first-year program, called depauw.year1, was begun in the fall of 1999 and is designed to help first-year students adjust to the rigors of college-level learning. The program enrolls each first-year student in a seminar class with no more than 12 other students and includes co-curricular experiences led by upperclass students trained by Outward Bound instructors. It already has had a positive impact on student retention.
"Our planning and work have been and will continue to be targeted at making DePauw more effective in developing students' potential," President Bottoms said. "It is good to see that work recognized in this widely respected publication.
"The U.S. News ranking is based on data gathered from the previous year," Bottoms noted, "and DePauw is continuing to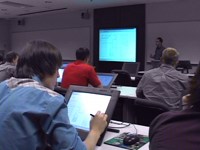 invest more resources in teaching and learning."
U.S. News & World Report also highlights DePauw professor Dave Berque and his electronic blackboard and DePauw senior Marshall Sims who, like many college students today, is starting his own dot-com company.
Read more about the annual "America's Best Colleges" rankings at the U.S. News & World Report site.
Back