'Women in Media' Panel Discussion Set for October 19
October 7, 2000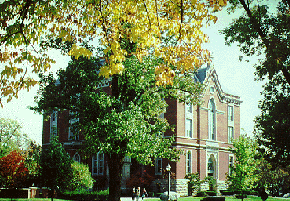 October 7, 2000, Greencastle, Ind. - Three prominent DePauw graduates will return to campus Thursday, October 19, to participate in a panel on the changing roles of women in the media. The discussion will focus on their own varied experiences and perspectives throughout the last fifty years.

Although entering the work force at different times, all of the panelists managed to find significant career success at the national level in an industry that has seen monumental change. There are more opportunities than ever before for those interested in pursuing careers in mass media, including new media like the internet that have changed the way traditional media do business.

The panel includes:
Barbara Blakemore, '46, most recently deputy editor of Family Circle, and former executive editor of McCalls. She also held positions with Colliers and Woman's Home Companion. Since her official retirement in 1995, she has continued to work on special projects for various magazines on a part-time freelance basis.
Beth Bogie, '60, currently a vice-president with Robinson, Lerer and Montgomery Public Relations, New York. Prior to her work at RL&M, Bogie applied her editorial skills at American Express company in the areas of electronic banking, strategic planning, international government relations, and corporate affairs. She also worked as a reporter/researcher at Fortune magazine for six years, and was on the founding staff of the AP-Dow Jones Economic Report wire service.
Chris Boeke, '78, a former vice-president with CBS, heading up the marketing effort for that network's "owned and operated" stations. Before joining CBS, Boeke held positions with the International Herald Tribune and Newsweek. Additionally, she worked in marketing for International Paper Company and several advertising agencies.
The panel will be held in the Watson Forum in the Pulliam Center for Contemporary Media on Thursday, October 19 at 4:15 p.m. It is free and open to the public. For more information, contact David Bohmer or Chris Newton at (765) 658-4475.
Back