DePauw Symphony Festival Choir to Feature Requiem on November 5
October 31, 2000

October 31, 2000, Greencastle, Ind. - The DePauw Festival Choirs and the DePauw University Orchestra join forces for the first time during the 2000-01 academic year to perform a recent choral masterwork, "Requiem" by English composer John Rutter. The concert will take place on Sunday, November 5 at 3 p.m. and will be held in Kresge Auditorium at DePauw's Performing Arts Center. Admission is free.
Also on the program will be Handel's "Entrance of the Queen of Sheba" from the opera Solomon, "Heart's Wound" from "Elegiac Melodies", Op. 34 by Norwegian composer Edvard Grieg, and "Procession of the Grail" by Richard Wagner from the opera Parsifal and a new work by DePauw Orchestra conductor Orcenith Smith entitled "Mystic Moment", the final movement of a larger orchestral suite.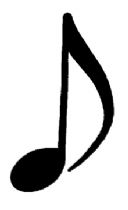 In the past 20 years, English composer Rutter has become exceedingly well-known in the United States through numerous recordings and hundreds of performances of his choral works by churches, universities and both professional and amateur choirs.
According to Stanley Irwin, director of DePauw Choirs and conductor of the upcoming performance, "John Rutter has produced one of the most beautiful recent works for choirs and orchestra. The composer uses a personal selection of texts in both English and Latin to create a work that is lyrical, serene and consistently gentle. It is a work of the most penetrating beauty."
The "Requiem" will feature student soprano soloist Alison Bates, a DePauw senior from Columbus, Ind. The next performance of the DePauw Choirs and Orchestra will be the annual Candlelight Concert, on Sunday December 3 at 7:30 p.m. Featured on that program will be portions of the "Ceremony of Carols" by Benjamin Britten, "Gloria" from Beethoven's Mass in C, Op. 86, seasonal favorites and a carol sing.
For more information about either concert, call (765) 658-4388.

Back