DePauw, One of USA's "Most Renowned" Liberal Arts Colleges, Featured in American Executive
November 17, 2005
November 17, 2005, Greencastle, Ind. - "This 168-year-old liberal arts college has become one of the most renowned in the nation. Dr. Robert Bottoms tells Michael Sharkey how it got there," begins a profile of DePauw University published in the November issue of American Executive magazine. Sharkey writes, "While DePauw is a liberal arts college with an influential school of music, the institution is also recognized for producing some of the country's most highly regarded business leaders."
"Having a liberal arts school with the school of music allows our college students to perform in the band or orchestra and take classes in the music school," President Bottoms tells the magazine. "Similarly, our school of music students get to take courses in the college. So we don't take the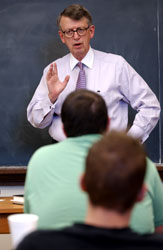 approach of a conservatory where the music students only do music and primarily associate with other music students. We have a lot of cross-fertilization between the college and the school of music, and it enhances campus life."
Sharkey notes, "When Dr. Robert Bottoms became president of DePauw University in 1986, he had a to-do list featuring three major goals: increase diversity on the nearly all-white campus, improve science education, and introduce ethics into the curriculum. Nineteen years later, minorities make up 14% of the student body; the new $38 million Percy L. Julian Science and Mathematics Center is a campus gem; and workers are preparing to break ground on the Janet Prindle Institute for Ethics. Particularly noteworthy among Bottoms' achievements was increasing diversity not only among the student body, but also from one minority faculty member in 1986 to 40 today."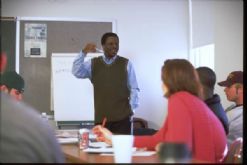 "American society has begun to realize that we don't learn many things from people who are just like us," Bottoms is quoted as saying. "Increasing diversity is one of the most important things we've done here, particularly on the faculty side."
The article points out, "During his nearly 20 years in office, Bottoms has helped raise an astonishing $500 million -- a record setting effort that has helped transform the school into a recognized national leader among liberal arts colleges." The president notes, "It costs roughly $35,000 a year to come to DePauw. And it's always a challenge to provide scholarships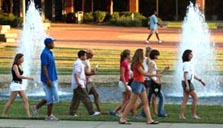 for people who can't afford that price tag. We've had so much success, that if you're a graduate of DePauw and you were to come back and see the new buildings and all of our new programs, you might think we didn't need the money. But to raise the bar for the teachers and students, and to increase the number, quality, and diversity of applicants while keeping tuition increases at a minimum, we'll need significant fundraising support now and in the future."
The profile also highlights the fact that about 75% of DePauw students are involved in community

service projects, as well as the unique internship opportunities they enjoy. "If you did a profile of students who came to DePauw, you would find we pay a great deal of attention to people who've been active outside the classroom as well as excel in the classroom," Dr. Bottoms states. "While we do stress academics, our students are active in the community. We have more than 80 organizations for students to take part in and it's created an activist type of community. If there was one word I would use to describe our students it would be 'busy.'"
Access the complete article at the magazine's Web site.
Back