Ken Owen '82 Returns to DePauw
November 10, 2000

November 10, 2000, Greencastle, Ind. - Ken Owen is quick to tell you that his home away from home, the place he has the strongest feelings about, is DePauw University. As a proud and loyal alumnus, he has made regular trips to his alma mater to lecture, work with students and serve on campus boards and committees.
Starting January 1, 2001, Owen will turn his pastime into serious work when he becomes director of media relations for DePauw University. Owen, currently news anchor and reporter on WRTV/Channel 6 in Indianapolis, has been a recognized face and voice on the Indianapolis airwaves for almost 15 years. Before his two-year stint as secondary anchor on Channel 6, Owen served as second anchor for nine years on WISH-TV/Channel 8, where he co-anchored the 5:30 p.m. news segment.
Ken Owen's love of broadcasting and journalism, nurtured at DePauw, led to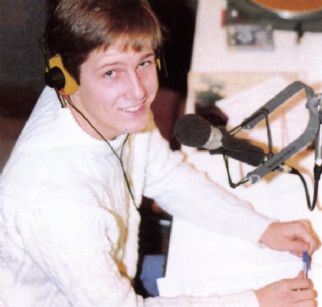 a career that began in 1982 at WIRE Radio in Indianapolis. A year later, he was at WIBC, then made the switch to television in 1984 on WPDS (now WXIN), an upstart independent station. He later anchored at WANE-TV in Fort Wayne and WLOS-TV, which serves the Asheville, North Carolina/Greenville-Spartanburg, South Carolina broadcast market. (at right: Owen on the air at DePauw's WGRE, circa 1980)
Owen, a 1982 graduate of DePauw where he received his bachelor of arts degree in communication arts and sciences, has had a wide range of experiences. During his career, he has interviewed a host of individuals from presidential candidates, Michael Dukakis, Steve Forbes and Gary Hart, to presidents George H. Bush and Gerald Ford, and such national and international celebrities as Paul McCartney, Tony Bennett, George Stephanopoulos and Jeane Kirkpatrick.
He moderated the Indianapolis mayoral debates in 1999 between Bart Peterson and Sue Anne Gilroy '70. In 1994, Owen covered the crash of American
Eagle flight 4184 in northern Indiana. He also reported from the Republican National Convention in New Orleans in 1988. The highlight of his career came in the summer of 1988, when he accompanied the Reverend Billy Graham on a 10-day trip to Russia, right before the fall of communism. The hour-long documentary that resulted was a finalist for the IRIS Award from the National Association of Television Program Executives.
Over the years, Owen has also lent his time and talents to a number of philanthropic causes. He has served on the boards of directors of Big Brothers for fifteen years in three different cities, the Make-A-Wish Foundation of Indiana and the Multiple Sclerosis Society, Indiana Chapter.
He has also hosted telethons for the Muscular Dystrophy Association, Easter Seals and the Arthritis Foundation, and keeps a regular schedule of speeches to schools and charities.
At DePauw, Owen will be responsible for communicating with media sources to present the accomplishments and activities of the DePauw campus community.
"As an involved alumnus, Ken brings to the position first-hand
knowledge of the campus and its history as well as an understanding of our goals. His live media background will bring a new perspective to how we craft our communications at DePauw," says Theresa Bryant, vice president for public affairs.
"Ken Owen's desire to join DePauw notes the special relationship that many alumni feel toward the University," says President Robert Bottoms. DePauw has a high level of alumni participation on advisory committees and projects. Owen serves on the Alumni Association Board of Directors and the advisory committee of the Pulliam Center for Contemporary Media.
"DePauw has always had good stories to tell," said Owen. "With a highly successful campaign of $374 million and a move into the top tier of U.S. News & World Report's rankings of universities, this institution is stronger than ever. I look forward to helping the world better understand what a unique place DePauw is."
Back