DePauw's Web Site a 'Hit'
January 11, 2001
January 11, 2001, Greencastle, Ind. - The information superhighway is leading to DePauw University at warp speed, according to the latest synopsis of visitors to the university's Web site. It logged 3,161,262 successful "hits" in the month of November, the most to date, and a more than 300% increase from March, 2000. The numbers have been increasing steadily since the Web site's debut a year ago, with rapid acceleration as the 2000-2001 school year began.
"A big part of the spike is the number of interactive services and dynamic pages that we have added during the fall semester", according to Web site director Daniel Pfeifer. New features include a searchable schedule of classes, pictoramas that offer panoramic views of the DePauw campus, and the webcam, which provides a live snapshot of the view from the academic quad.
www.depauw.edu has some 7,200 pages of content, assembled and updated with the help of more than 100 authors campus-wide. Pfeifer and Web communications specialist Scott Cooper promise even more exciting developments in the months to come, among them a virtual tour of DePauw. "It is one more way that we are trying to give people a sense of the physical space on campus", says Pfeifer. "We also have added a photo database that is searchable. I don't know of too many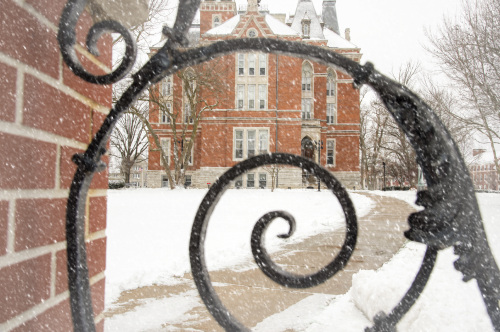 other campuses that have online photo databases open to either Web authors or the public."
"The numbers indicate DePauw is indeed reaching out to its student body, alumni, parents and prospective students in a new way that is being embraced," according to DePauw President Robert G. Bottoms. "The Web site further underscores DePauw¹s commitment to make technology a strong part of the traditional liberal arts education the university has provided for generations."
For more information, statistics or to schedule an interview with Daniel Pfeifer, contact Ken Owen, director of media relations, at (765) 658-4634 or kowen@depauw.edu.
Back