Civil Rights Legend Bob Zellner Urges DePauw Students to Continue the Fight
January 12, 2001
January 12, 2001, Greencastle, Ind. - Bob Zellner, who some call the most important white man in the civil rights movement, says Dr. Martin Luther King, Jr. would be "appalled and delighted" by the state of 21st century America. Delighted, Zellner says, because the nation has made significant strides since the civil rights movement of the 1960's. Appalled because, as Zellner puts it, "there's so much yet to be done."

[DOWNLOAD AUDIO: 269K]
Zellner presented the Dr. Martin Luther King, Jr. convocation today in Meharry Hall of historic East College on the DePauw University campus.
Raised in lower Alabama as the son of a Ku Klux Klansman, Zellner became the first white person to serve as a field secretary in the Student Non-Violent Coordinating Committee. Zellner remembers Dr. King as a "real person," a charismatic, sometimes funny man who became the symbol of, and primary voice of, the civil rights movement. But Zellner says it's important to remember that the movement was full of heroes, that "normal people,"

[DOWNLOAD AUDIO: 178K] those who worked to bring people together for the cause, were also "giants." The message for today's Americans, says Zellner, is that every contribution toward bettering society is a large act, no matter how small it may seem on the surface.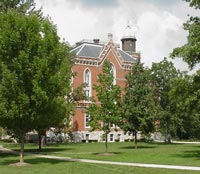 Zellner admonished his audience, "You have a responsibility to get to know this history and get involved."

[DOWNLOAD AUDIO: 186K] In his view, the new century poses new threats to Dr. King's dream. For instance, Zellner says the Klan increasingly is using the Internet to quietly spread its message. He says the voices of harmony and tolerance must unite to ensure that the struggles of the 1960's were not in vain, and that students at DePauw and across America must take the initiative to be active and aware in building the nation Dr. Martin Luther King, Jr. spoke of and dreamed about four decades ago.
Back