Author Richard Peck '56 Wins Newbery Medal
January 16, 2001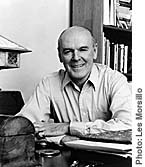 January 16, 2001, Greencastle, Ind. -

[DOWNLOAD AUDIO: "Peck on DePauw Experience" 603KB] Richard W. Peck, a 1956 graduate of DePauw University, is the winner of the American Library Association's 2001 John Newbery Medal, its top award for children's literature. Peck was honored for his book A Year Down Yonder. Set in 1937, it's the story of a 15-year-old girl who is sent from Chicago to live with her grandmother in rural Illinois for a year after the girl's father loses his job.

[DOWNLOAD AUDIO: "Peck On The Award" 800KB]
The prequel to A Year Down Yonder, entitled A Long Way from Chicago, won the ALA's John Newbery Honor Award, the silver medal prize, in 1999.
Peck tells the Associated Press, "my cause and my joy is writing for younger teens -- middle school is the age at which we lose most people to reading... This is the age at which parents stop attending PTA meetings, and I want to be there,

to encourage reading.''

[DOWNLOAD AUDIO: "On Leaving Teaching" 523KB]
Peck has written more than 20 novels for teenagers, starting with 1972's Don't Look and it Won't Hurt. He's also authored four novels for adults.
Peck spends about a quarter of his time on the road talking with young people about themselves, their problems and their concerns, and says he always makes a point of including older characters in his children's books. "This is a generation of young people who no longer have to write thank-you notes for gifts from grandparents, and so they rob themselves of their own roots," he tells the AP. "I give them elders -- an eccentric cast of strong grandparental figures.''

[DOWNLOAD AUDIO: "On Role Models" 558KB]
In addition to the bachelor's degree he received from DePauw in 1956, Richard Peck was awarded an honorary doctor of letters degree in 1999.
DePauw President Robert G. Bottoms says this award, the equivalent of an Olympic gold medal for a children's author, "further underscores Richard Peck's outstanding contributions to the fields of literature and education, and the important role he serves in helping to teach and nurture young minds."
Back