GLCA Video Art Students: We Want to Display Your Work
January 20, 2001

January 20, 2001, Greencastle, Ind. - "Pixels and Silver 2," a video art festival to be held at DePauw University this spring, will include a new showcase of work by GLCA students. Organizers of the event are seeking submissions of student video/film and animation for the festival, which will take place April 4-7 on the DePauw University campus. All entries must be on VHS tape, and cannot exceed 30 minutes in length. The deadline for entries is Feb. 28.
Students interested in submitting their work can find an application online. Entries will be judged by video historian Melinda Barlow. Awards will be announced at the festival's opening event.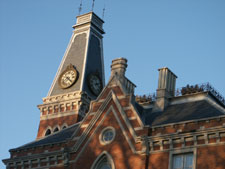 The four-day festival will also include presentations by Barlow and video artist Mary Lucier, as well as an open forum for GLCA faculty to share their work in the areas of photography, video and new media with GLCA colleagues.
A complete schedule of events and information on lodging can also be found on the Pixels and Silver Web site.
Back