Greencastle Area Students to Benefit From DePauw Faculty Member's Award
January 20, 2001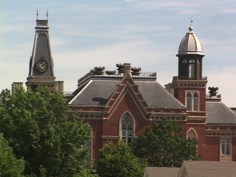 January 20, 2001, Greencastle, Ind. - Jamie Stockton, instructor of education at DePauw University, has received an Eisenhower Award from the Indiana Commission for Higher Education to fund a project that will enhance science education in area middle and high schools.
The project "A Step Toward Science and Technology Literacy" will fund professional development for 22 middle and high school science teachers in the Greencastle, North Putnam, South Putnam, Cloverdale and Cascade schools. The award from Eisenhower Funds of $44,938, and matching funds from the state and local school districts, will provide for a
week of workshops for the science teachers in the summer, followed by another four or five workshops in the fall of 2001 and spring of 2002.
The sessions will focus on content of science classes, technologies that can enhance the educational experience and teaching methods.
"This is really an effort to reach out to the rural school communities with which DePauw interacts," Stockton said. "It's designed to help teachers, and ultimately the students who live in this area, through enriched science education programs."


Back