DePauw Opera to Present H.M.S. Pinafore
February 1, 2001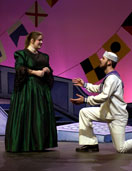 February 1, 2001, Greencastle, Ind. - The DePauw University Opera/Musical Theatre will present Gilbert and Sullivan's comic operetta H.M.S. Pinafore, February 8 through 11. The four performances will be in the DePauw Performing Arts Center, Moore Theatre.
The show "is great fun," according to Leo Goeke, director of DePauw Opera and a School of Music music faculty member. "We are all enjoying doing this style of period piece with these young singers. They learn so much from the eloquent and often snippy English dialogue and the tuneful melodies that they can instantly relate to their characters. The audience can have a lot of fun, too, because the story is direct, fast-paced and filled with memorable music! It's a show the whole family can enjoy!"

According to Orcenith Smith, Music Director of DePauw Orchestras and conductor of the opera, "The Victorian-era story evolves on-board the H.M.S. Pinafore prior to an arranged marriage between an older admiral and the captain's daughter. The young girl, however, is secretly in love with another member of the Queen's Navy, a sailor on the Pinafore. Librettist W. S. Gilbert and composer Arthur Sullivan were in-tune with the difficulties of class

rank in English society and have created a humorous and musically satisfying show that illuminates several results of this class clash. The large cast of ship's crew and all manner of relatives serve to amplify the zany twists and turns that come about!"

Performances will be Thursday, Friday and Saturday, Feb. 8-10 at 7:30 p.m., and Sunday, Feb. 11 at 2 p.m. Tickets are $7 for adults; children and students tickets are $4. Call the Performing Arts Center box office at (765) 658-4827 for more information and to make ticket reservations.
Back