PGA Tour Executive Tim Benton '87 Addresses Management Fellows
February 2, 2001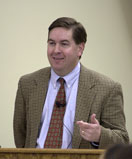 February 2, 2001, Greencastle, Ind. - Tim Benton (DePauw 1987), director of marketing and sponsor relations for the PGA Tour, remembers playing "East College Golf" as a freshman at DePauw in 1983.

[DOWNLOAD VIDEO: "DePauw Memories" 5455KB] Benton recalls his sand wedge making good contact with a golf ball, sending it into the hood of a parked car. The owner of the newly dented vehicle was Richard Rosser, DePauw's President at that time. "That was probably the first introduction I had to business and golf," jokes Benton, who now makes mufti million dollar deals with the PGA's sponsors. He returned to his alma mater today to deliver a Robert C. McDermond Center for Management and Entrepreneurship Lecture.

Despite the dominance of Tiger Woods, Benton says the game of golf is loaded with talent. "Everyone thinks the PGA Tour is Tiger Woods, and if Tiger Woods gets hit by a bus we're in real trouble. If Tiger gets hit by a bus It depends on how fast the bus was going, but it's not the end of the world for the PGA Tour because we have a tremendous pool of talent. The reason people watch PGA events on television is to see great players making great shots and we have an abundance of that," Benton told his DePauw audience.
That said, Benton admits Woods is the driving force behind golf's rise in TV ratings and popularity. Over the past three years, he says, attendance of PGA events has climbed 15%, while other sports have seen decreases, notably the NBA, which is down 14%. Benton says the rise of Tiger Woods has brought golf a younger, and more ethnically diverse fan base. " We don't want golf viewed as an elitist sport. It probably was that way 20 years ago... but that's changed," he said.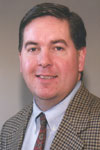 [DOWNLOAD VIDEO: "STRATEGY" 1019KB] Benton advised students to have a career strategy, and to get to work on it early. While resume building is important early in one's career, the PGA executive says it's important to eventually find a job that you have a passion for and enjoy.

[DOWNLOAD VIDEO: "Passion" 1531KB] And, he implored his audience to be leaders in their professional and personal lives.

[DOWNLOAD VIDEO: "Leadership" 1700KB] "Leadership is sometimes lost today and it encompasses a lot of things," said Benton. "It's hard work, it's teamwork, it's doing the right things, it's having a strong work ethic. But leadership comes in a lot of different styles and you need to think about what your style is and how you can lead most effectively."
Back