What is the Place of Technology on a Liberal Arts College Campus?
February 6, 2001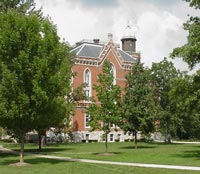 February 6, 2001, Greencastle, Ind. - Presidents, provosts, professors, administrators and technologists from liberal arts colleges throughout the Midwest will gather at DePauw University on Friday and Saturday for a symposium. "Technology in the Service of the Liberal Arts" will begin Friday, February 9 at 2 p.m. and end at 2 p.m. the following day.
DePauw University, under a Andrew W. Mellon Foundation technology grant, and the Great Lakes Colleges Association (GLCA) are co-sponsoring the symposium, designed to continue dialogue among faculty, staff and administration about information technology practices and issues.
Among the questions to be explored:
How does technology support the mission of the Liberal Arts college in teaching and learning through individual discovery, dialogue, and close interaction between students and faculty?
How can effective uses of technology help liberal arts schools compete in an increasingly crowded marketplace?
What sorts of business models are appropriate for budgeting and planning for the use of technology in the liberal arts?
The symposium will begin with a keynote address from William G. Durden, President of Dickinson College, at 2 p.m. Friday in room 301, Harrison Hall. He will speak on the mission of the liberal arts college, and the values that underlie the pursuit of that mission.
Attendees must register. More information about the symposium and its schedule can be found online at glca.org/symposium2001/.
(Media outlets are welcome to cover the event. Questions may be directed to Ken Owen, director of media relations, at (765) 658-4634.)
Back