DePauw Student Wins Statewide Community Service Leadership Award
March 21, 2001
March 21, 2001, Greencastle, Ind. - DePauw University student Nicole Hallett will be honored by Indiana Campus Compact as the winner of the 2001 Richard J. Wood Student Community Commitment Award. Nicole was chosen from fifteen nominees and four finalists from across Indiana. She will receive the award at an April 12 luncheon at the Adam's Mark Hotel in downtown Indianapolis, and will be one of the featured speakers at the event.
A native of Bloomington, Indiana, and an English (literature) major, Nicole Hallett is committed to community service and social change. Highlights of her service activities include her participation as a student coordinator and a tutor for a 4th grade student for the Indiana Reading Corps program. During the 2000 election, she organized three political debates and helped over 100 people register to vote, coordinating shuttles to transport people to the polls on election day. For the past two years, she has spent the month of January on service trips volunteering in impoverished areas -- working in an orphanage in Bangladesh and on a Habitat for Humanity House in Immokolee, Florida.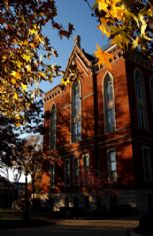 "It is hard to quantify what I have learned from these experiences, and I have yet to see the full effect I have had on my community," said Hallett. "I do know, however, that I am not likely to quit anytime soon. Service is a lifetime commitment, one that I am ready to make."
The Richard J. Wood Student Community Commitment Award is given by Indiana Campus Compact to recognize students at member campuses who have demonstrated outstanding commitment to community service during their college experience. The Award is given in honor of Dr. Richard J. Wood, currently the Dean of the School of Divinity at Yale University, who was the founding chairperson of Indiana Campus Compact when he was President of Earlham College. Students are nominated for the Award by the President or Chancellor of their institution, based on evidence of their record of service, development of leadership and advocacy kills, and determination to build long-term community relationships that positively impact community problems.
"Nicole Hallett embodies what a liberal arts education is all about," said DePauw University President Robert G. Bottoms. "By reaching out to others, Nicole is enriching her world and her world view.
The award is a wonderful tribute to her dedication and selflessness, and the DePauw community is extremely proud of her."
Indiana Campus Compact, a consortium of 30 colleges and universities, is committed to promoting a renewed vision of colleges and universities as active and involved members of their communities. Indiana Campus Compact member campuses seek to involve students, faculty, and the entire campus in community service in order to fulfill higher education's most noble goals of educating citizens, preparing tomorrow's leaders, and contributing to the life of America's communities.
Back