"Oh No!" DePauw Grad and New York Times Editor Recalls the Story That Just Kept Breaking
April 6, 2001
April 6, 2002, Greencastle, Ind. -
[DOWNLOAD VIDEO: "2000 Election" 2737KB] Phil Sayre says the days following the 2000 presidential election were a "tremendous time for things that were unexpected." Sayre, a 1971 graduate of DePauw University had a unique perspective during that period. He is assistant national editor for the New York Times, arguably the most influential newspaper in America. Thursday evening, April 5, Sayre returned to his alma mater for a Media Fellows Lecture in Watson Forum of the Pulliam Center for Contemporary Media.
Sayre says the undecided election and the court battles that followed provided a virtual clinic in breaking news.
[DOWNLOAD VIDEO: "Breaking News" 2598KB] For instance, late election night the paper went to print with a headline that Sayre recalls saying "Bush narrowly leads Gore." As the story quickly began to change, the Times literally stopped the presses. "That was the first time I had seen that done,"Sayre said. In the days that followed, with calls for recounts and court challenges, putting the paper "to bed" was no easy task. "I can think of five or six nights that we were redoing pages at the very last minute," Sayre told his Greencastle audience.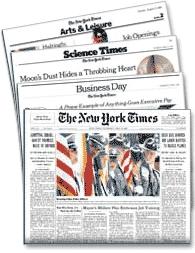 "We're dealing with technology that started in the fifteenth century," he said of the printing press.
Sayre says the Times prints 1.25 million copies on a normal weekday and 1.75 million on Sunday at 18 different plants. From there, the papers have to be trucked to points of sale. As a result, time can be an editor's worst enemy. Case in point -- the U.S. Supreme Court issued its ruling, which essentially decided the election, late one evening. "The only problem was this baby came wrapped in a 65-page blanket," said Sayre. "It ís impossible to digest a Supreme Court ruling instantly, and this one in particular." The assistant editor says the Times benefits from having writers that are experts in their given fields, something that can be essential in such crunch times.
For the reporters who had covered the presidential race for nearly a year leading up to election day and planned to begin a vacation afterward, "I think the basic feeling was 'Oh no!' It took a couple of days for it to dawn on us how intense this was likely to be." Sayre says the Times had 75 reporters covering the election aftermath. Over the 37 days the outcome was in question, the paper published 661 election related articles, totaling about 650,000 words, or two copies of "War and Peace" side-by-side. Even though the winner has been declared, Sayre does not expect controversy and debate to vanish. He predicts, "there will be conflicting theories about this election forever, just as there are about the death of JFK." (BONUS CLIP-- Phil Sayre on Gore losing Tennessee:
[DOWNLOAD AUDIO: "Overlooked" 338KB])(BONUS CLIP-- Sayre on Ralph Nader:
[DOWNLOAD AUDIO: "Nader's Role" 173KB])
Phil Sayre never worked on the student newspaper while at DePauw, nor at the campus radio station. But he says the landscape
has changed since he entered the business in the early 1970's, that papers are looking for writers and editors with backgrounds, internships and degrees in communication and journalism.
[DOWNLOAD VIDEO: "When I Started" 4081KB] Sayre says he started in the newspaper business because he found a good-paying job, and has never strayed because "this is fun. If you can find something that is fun, stick with it." Good advice from a DePauw graduate who oversees "all the news that's fit to print" and, when conditions warrant as they did through November and December, re-print.
Back