Acclaimed Touring Classical Theatre Company to Perform Free DePauw Show
April 30, 2001
April 30, 2001, Greencastle, Ind. — The Aquila Theatre Company, known internationally as one of the foremost producers of touring classical theatre, will bring its unique collective talent to the DePauw University campus this week. The Aquila Young Audiences Company will perform an excerpt from Homer's Odyssey at 7 p.m., Thursday, May 3rd in Meharry Hall of historic East College. The performance, which is suitable for older children, will be presented free of charge.
Aquila company members have experience in The Royal Shakespeare Company, numerous world class repertory companies, and on Broadway stages.
"The hallmark of the company is its ingenious use of masks, meticulously crafted and adorned with human hair," wrote the New York Times. "Copied from Greek vases of the fifth century B.C., the masks are slightly larger than life size, and through the actors' controlled body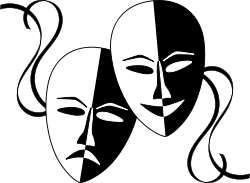 movement express a flexibility that belie the frozen contours. The masked characters seem to fill up the stage as they portray the legendary grotesques of Greek drama," the review noted.
Aquila's Web site calls condensed productions, such as the version of the Odyssey that's coming to DePauw, "an excellent and accessible way to introduce young audiences to the excitement of live theatre and the vital work of classical drama. Through a magical storyteller, the trials and tribulations of Odysseus will be unfolded. He will guide us through this epic adventure of the imagination."
Back