DePauw Symphony and Festival Choirs Make Final Preps for Sunday Concert
May 2, 2001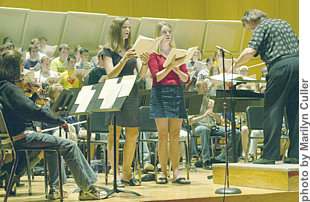 May 2, 2001, Greencastle, Ind.— Student soloists have been selected for the upcoming performance of Beethoven's Mass in C, Opus 86. The DePauw Festival Choirs and the DePauw Symphony Orchestra under the direction of Stanley Irwin will be performing the Beethoven Mass Sunday, May 6, at 3 p.m.in Kresge Auditorium of the Performing Arts Center on the DePauw campus.
The soloists, chosen through auditions, are Alison Bates, Emily Lyday, sopranos; April Scholten, Alyson Sklar, altos; Todd Rainer, Robert Maril, tenors; and David J. Winans, Andrew Harris, basses.
Sunday's concert is free and open to the public. More information on the program can be found in this story.
Back