Women's Sports Coverage a Low Media Priority, DePauw Professor Finds
May 2, 2001
May 2, 2001, Greencastle, Ind.— On Tuesday, May 1, the editorial page of the Indianapolis Star featured an op-ed piece written by Judith Jenkins George, professor of health and physical performance at DePauw University. Headlined "Coverage of women's sports gets low priority", the "Another View" column also featured a picture of Professor George.
The text follows:
A study on the coverage of women's sports in newspapers shows that while there's been an enormous increase in the opportunities, number of events and attendance at contests for women's athletics, newspaper coverage of women's sports has only slightly increased in the past 10 years.
One-year studies were conducted on 52 Saturday editions of the New York Times and the Indianapolis Star in 1989 by Neal Watson and me and again in 1999 by Ashleigh Griffin and me (all at DePauw University). The 1989 study showed that women received 2.7 percent of all sports coverage in the Star, while the Times allotted 2.2 percent. Then 10 years later, the Star provided 8.6 percent women's athletic coverage, and the Times 6.7 percent.
Coverage of men's and women's professional tennis and golf used a combined format, and this likewise was an inconsequential amount of the total sports news in 1999 with 2.9 percent in the Star and 2 percent in the Times.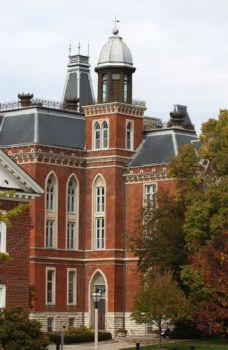 Even pictures of female athletes were found to be dismally low at 9.8 percent in the Star and 8.9 percent in the Times. Although improvement is noted, one must question whether the limited coverage is a fair and, thus, ethical representation of the sporting news.
The amount of newspaper coverage of women's sports has not kept pace with the popularity and expansion of female athletics. Almost 30 years has passed since Title IX was enacted in 1972, a legislative bill that sought to equalize educational opportunities for all and especially boost development in girls' and women's athletics. Participation in high school, collegiate, international and professional sport has soared since that time.
Women now comprise nearly 40 percent of all high school, collegiate and Olympic athletes. The participation figures for these athletes are quite impressive ... more than 2,600,000 at the high school level; 2,800,000 within the NCAA and NAIA sport; and more than 4,000 female athletes competed in the Sydney Olympics.
Yet, the public in general has an insufficient knowledge base of current women's sports due to under-reporting. There is a lack of understanding of the outstanding athletic performances due to limited sustained reporting of the varied sports, and an insufficient comprehension of the outstanding stars, coaches and teams.
This results in the public's impression of women's athletics as being marginal, not really popular or worthy of newspaper coverage. This impression is further accentuated by placing articles about women's sports toward the back of the sports section and seldom on the front sports page.
Newspapers today are concerned about a shrinking readership, and it is nonsensical to think that there would not be an alertness to the potential for an increasing market among readers of the sports section from the growing number of female athletes. It is probable that young readers will not be motivated to seek out information in the newspaper when they can not read about the accomplishments of their gender and their sporting role models.
The negligible coverage given to women's sports presents a compelling argument for change in the news gathering, reporting and editing process. Why should men be receiving more than 90 percent of the sports coverage in an era in our national history in which we have sought to enhance gender equity?
How newspapers address (or ignore) this pressing situation becomes a critical exercise in power. The print media shape the interest of the public, and by under-reporting women's athletics and sporting events, the accomplishments of women are kept at a distance. This, in turn, minimizes the achievements of half our population.
Source: Indianapolis Star
Back