Teaching Traditions Honored at DePauw
May 2, 2001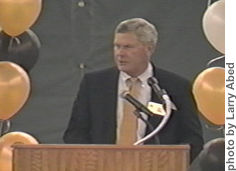 May 1, 2001, Greencastle, Ind. - Of DePauw University's many traditions, faculty excellence may be the most enduring and impactful. To honor those who have taught at DePauw and enriched the institution and its students over the years, Sharon and Timothy Ubben, both 1958 graduates of DePauw, established an endowment to name 15 faculty chairs to honor professors who have passed away. Friday, April 27, 2001, the first three Ubben Endowed Chairs were named at the inaugural gathering of the Timothy and Sharon Ubben Society of Teacher-Scholars, during the annual Faculty Recognition Dinner.

[DOWNLOAD AUDIO: "Jome Announcement" 345KB] The Hiram L. Jome Chair in Economics and Management was awarded to Gary D. Lemon, director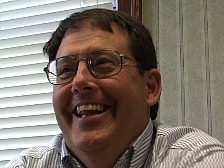 of the Robert C. McDermond Center for Management and Entrepreneurship (pictured at right). The announcement was made by Neal B. Abraham, vice president for academic affairs and dean of the faculty.

[DOWNLOAD VIDEO: "Memories of Jome" 272KB] "It was in Hiram Jome's class that I first experienced what I would call 'academic excitement'," said Mr. Ubben. "That's where you want to go to class, you want to read the book, you want to do the paper, because it's fun. And I only hope that more kids as they go through college have that experience of academic excitement."
The Percy L. Julian Chair in Chemistry will be awarded in honor of Donald J. Cook, professor emeritus of chemistry (see video of Dr. Cook being recognized:

[DOWNLOAD VIDEO: "Donald Cook" 124KB] ).

[DOWNLOAD VIDEO: "Reflections on Cook" 405KB]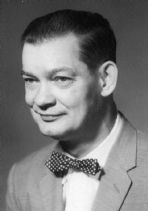 "I took Jack Cook's three hour chemistry class and he very generously gave me a C-minus. And I say, sometimes it is more helpful to know what you are not good at, and Jack Cook made that abundantly clear to me in my freshman year," joked Ubben. The recipient of the Julian Chair is Bryan A. Hanson, professor of chemistry (hear the announcement here:

[DOWNLOAD AUDIO: "HANSEN" 255KB])
DePauw alumni and current and emeritus faculty members were called upon to nominate a professor for the Ubben Endowed Chair in the history department. More than 600 people sent, faxed and e-mailed their suggestions; 21 former history professors were nominated, as were a number of current faculty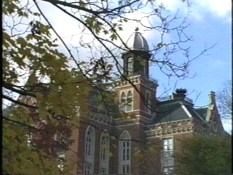 members.

[DOWNLOAD VIDEO: "The Nominations" 283KB] "Several alumni talked about how these historians and teachers had sparked lifelong interests," said Dr. Abraham. A half-dozen or more of the nominators are now themselves professors of history at colleges and universities.
In the end, the greatest number of alumni suggested Dr. Andrew W. Crandall, who joined the DePauw faculty in 1921 and continued teaching until his death in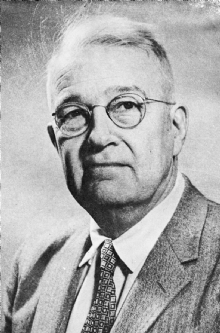 1963.

[DOWNLOAD VIDEO: "Ubben on Crandall" 196KB] The A.W. Crandall Chair in History was awarded to John Dittmer, a DePauw faculty member since 1985 (hear the announcment:

[DOWNLOAD AUDIO: "Dr. Dittmer" 250KB]).
Over the next four years, three more Ubben Chairs will be named annually, eventually creating an endowed chair for each of DePauw's major departments.
Also at the faculty recognition dinner, The Ian M. Rolland Chair in Mathematics was awarded to Nachimuthu Manickam, chair of DePauw's mathematics department (hear the announcement:

[DOWNLOAD VIDEO: "MATH 2" 58KB] ).
The Frederick C. Tucker Distinguished Career Award for 2001 was presented for a second time to James M. Mannon, professor emeritus of sociology (seen at right). Mannon, who is retiring this spring, joined the DePauw faculty in 1975. First given in 1988 as a result of the generosity of former chair of the Board of Trustees Frederick C. Tucker, the annual award recognizes the achievements of senior faculty members who have made notable contributions to the University through their commitments to students, teaching excellence, their chosen disciplines and University service. The recipient receives a cash award of $10,000.
Back