DePauw Band Wraps Up Season with May 9 Concert
May 4, 2001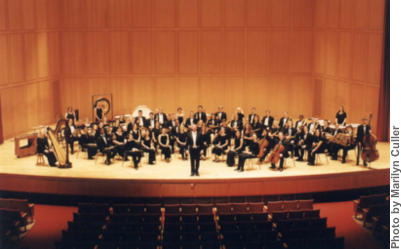 May 4, 2001, Greencastle, Ind. - The DePauw University Band will present a Student Conductor's Concert, its final concert of the season, on Wednesday evening, May 9, at 8 p.m. in Kresge Auditorium of the Peforming Arts Center.
Four DePauw University music students -- David Barbick, Luke Fletcher, Julie Granchelli, and Erin Gregorcich (all members of the Class of 2002) -- were selected by audition, and will each present one band work that they have been rehearsing with the University Band over the last three weeks. The program will include:
Prelude, Siciliano, and Rondo -- Malcolm Arnold
Serenade for Band, Op. 85 -- Vincent Persichetti
Toccata -- Girolamo Frescobaldi
Second Suite in F -- Gustav Holst
In addition, the University Band will joined by guest musicians from three area high school music programs:
Cloverdale High School

William Cole, Band Director
Alex Cole, percussion
Amanda McAninch, flute
Ashley Sims, saxophone
Greencastle High School
Robert Hedge/Kathryn Dory, Band Directors
Sara Edenfield, bassoon
Dan Nemchonok, clarinet
South Putnam High School
Aaron Wells, Band Director
Kodie Burroughs, clarinet
Jon Elder, trumpet
Chris Selby, horn
These talented high school students have traveled to DePauw every Tuesday and Thursday for the last three weeks to rehearse with the University Band.
The May 9 concert is free and open to the public.
Back