Prof. Esther Lee Nominated to Serve on National Education Board
May 8, 2001

May 8, 2001, Greencastle, Ind. - Esther S. Lee, professor of education and chair of the department of education at DePauw University, has been nominated to serve on the National Council for Accreditation of Teacher Education's (NCATE) Board of Examiners. Dr. Lee will join 429 other teacher educators, practitioners, state and local policy makers, and subject matter specialists nationally to be trained as a member of the Board.
Before coming to DePauw, Esther Lee taught at the University of Houston Clear Lake, and Southern Arkansas University for a total of 18 years. She also served as a Deputy Director of the U.S. Department of Education and a board member of the Texas Board of Pardons and Paroles.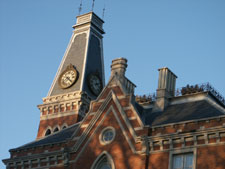 A bilingual writer and speaker, Dr. Lee writes a weekly column on interactive parenting that appears in the World Journal, a Chinese newspaper with global circulation. She has authored six books and delivered speeches and presentations at a countless number of civic, religious and professional seminars and conferences both in the United States and abroad.
Back