Prof. Valarie Ziegler's Advocates of Peace Back in Bookstores
May 9, 2001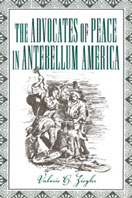 May 10, 2001, Greencastle, Ind. - The Advocates of Peace in Antebellum America, a book by Valarie Ziegler, professor of religious studies at DePauw University, has been published in paperback by Mercer University Press. First published in hardcover in 1992 by Indiana University Press, Dr. Ziegler's book "chronicles the political and intellectual development of the two major antebellum peace movements (The American Peace Society and The New England Nonresistant Society)," according to Mercer's Web site.
American Historical Review called Ziegler's 256 page book "(a) substantial contribution to the literature of antibellum reform." Reviews in American History wrote, "Ziegler's exquisitely written study of antebellum pacifism represents the most important study of antislavery since Aileen Kraditor's Means and Ends in Abolitionism (1969)."
The Advocates of Peace in Antebellum America is available at bookstores and online booksellers nationwide.
Back