'Angie's List' and its DePauw Namesake Profiled in Business Journal
May 15, 2001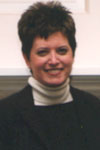 May 15, 2001, Greencastle, Ind. - Angie Hicks, who as a senior told DePauw Professor Gary Lemon, "I'm going to be the president of my own company" is living up to her vow. After graduating from DePauw in 1995, Hicks helped build a company called Angie's List, which provides recommendations to homeowners who need a service performed, such as plumbing. Today, Angie's List has more than 40,000 paying customers in 11 markets and 30 employees.
The story of how Hicks helped build the business, left to earn an M.B.A. from Harvard Business School, then returned as chief marketing officer and part owner of Angie's List, is the subject of an article in the May 14-20, 2001 edition of Indianapolis Business Journal. Entitled, "Friendly, fearless attitude goes a long way," the article can be downloaded at <http://www.ibj.com/topstories.asp?A=6874&SearchWords=angie%27s+list> (a subscription is required)
The IBJ article includes a number of quotes from Hicks and Lemon, the
director of DePauw's Management Fellows Program. "She's one of the brightest students I've ever had the pleasure of working with," Lemon (pictured at right) told the Business Journal.
While the story of Angie Hicks is another example of the uncommon success DePauw graduates enjoy in the business world, today's students are also benefiting from her work. Angie's List sponsors a DePauw intern from the Management Fellows Program, so that others can learn first-hand how to grow a business and live their entrepreneurial dreams.
Source: Indianapolis Business Journal
Back