Weather Forecast Looks Pleasant For Commencement Day 2001
May 17, 2001
May 17, 2001, Greencastle, Ind. - Parents, alumni and friends planning to make the trip to Greencastle for DePauw University's commencement exercises this Saturday, May 19, 2001 at 1 p.m., should enjoy nice weather. The latest forecast calls for partly sunny skies on Saturday with a high of 78 degrees.
Barring a curveball from Mother Nature, the ceremony will be held on the lawn of historic East College. As you can see from the photograph accompanying this story, crews have been busy erecting the platform where more than 500 DePauw graduates will receive their diplomas. Also assembled are bleachers where some of the overflow crowd of spectators will witness the event.
For the latest Greencastle weather forecast, click here.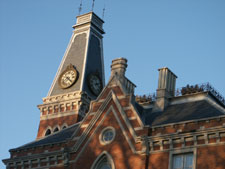 For more information on the commencement program, including speaker Morris Dees, click here.
Back