533 Receive DePauw Diplomas at 2001 Commencement
May 19, 2001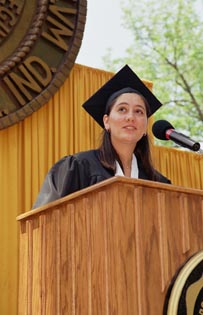 May 19, 2001, Greencastle, Ind. - For her speech to fellow members of DePauw University's Class of 2001, senior and Walker Cup recipient Ashley Krieg focused on something she read during her semester abroad.
[DOWNLOAD VIDEO: "Experience" 392KB] "Experience is something you find when you're not looking for it," wrote an Australian traveler in a book of comments left by people who had stayed at a hostel in the Swiss Alps. Krieg recalled coming to DePauw with "misguided ideas of what college was going to be like. I thought that learning (only) happened in the classrooms," she said on East College lawn, packed for DePauw's 162nd annual commencement ceremony today.
.
[DOWNLOAD AUDIO: "Small Things" 303KB] The Walker Cup recognizes the senior student judged to have contributed the most to the University during his or her four-year college career. Krieg said her academic, volunteer and social activities have combined to create an "amazing" array of experiences, and friendships that will last a lifetime.
[DOWNLOAD VIDEO: "Into the World" 261KB]
[DOWNLOAD AUDIO: "Into the World" 226KB] "I hope that with our newly-earned degrees, we can go out into the world and continue building on what we have done with DePauw," the senior stated. "(Today) we pack up the skills we've learned during the aast four years, and tomorrow we begin to put them to use."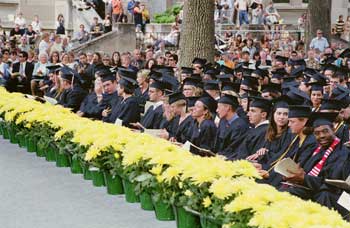 [DOWNLOAD VIDEO: "President's Welcome" 226KB]
[DOWNLOAD AUDIO: "President's Welcome" 118KB] Five hundred thirty-three DePauw students received diplomas and 522 marched in the ceremonies, which began at 1 p.m. under partly sunny skies. There was a threat of rain through the morning, but it turned out to be a pleasant day for the crowd that packed the grounds.
[DOWNLOAD VIDEO: "Opened Doors" 291KB]
[DOWNLOAD VIDEO: "The President's Charge" 732KB])
The Class of 2001 includes DePauw's first eight "Posse" graduates. Four years ago, DePauw partnered with the Posse Foundation, a New York City-based student leadership and admissions initiative that recruits multi-racialand multicultural students from New York's public high schools. The foundation provides a pre-college orientation and support system that enables these young people to attend and successfully graduate from some of the nation's finest liberal arts institutions. DePauw's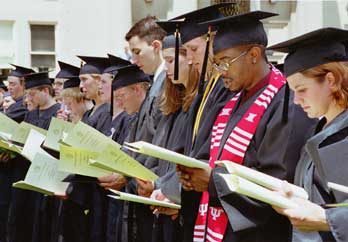 2001 Posse graduates are Ramon Castillo, Yuly Ng Cheung, Anisah Miley and Kristina Kesler of Brooklyn, N.Y.; Jimmy Clark of Staten Island, N.Y.; and Clint Graham, Derron Harris and Keryn Vickers of Bronx, N.Y.
A moment of silence was observed for senior Polly Elizabeth Marchese, who lost her battle with leukemia on April 29, 2001.
[DOWNLOAD VIDEO: "Toast to DePauw" 522KB] The ceremony ended, per tradition, with the singing of A Toast To DePauw and the sight of graduates hugging, cheering and throwing their caps in the air in celebration.
For more coverage of Commencement 2001, click here and here.
Back