Sen. Richard Lugar Receives DePauw's McNaughton Medal for Public Service
May 19, 2001
May 19, 2001, Greencastle, Ind — The Honorable Richard G. Lugar, the longest-serving U.S. Senator in Indiana history, was awarded the McNaughton Medal for Public Service at DePauw University's commencement today.
[DOWNLOAD VIDEO: "DePauw Tradition" 228KB]
[DOWNLOAD AUDIO: "DePauw Tradition" 118KB] "DePauw, through John McNaughton, represents the tradition of public service an outreach of dedicated students, faculty, administration, parents and friends who have made an extraordinary impact upon our state, our nation, and our world throughout the years," said Lugar as he accepted the honor at East College lawn.
Established in 1967, the year Secretary of the Navy-designate John McNaughton (DePauw 1942) and his wife and son were killed in a plane crash, the medal has been awarded on six previous occasions. Previous recipients were chemist Percy L. Julian (DePauw 1920) in 1972; William D. Ruckelshaus, administrator of the U.S. Environmental Protection Agency in 1984; U.S. Representative and 1952 DePauw graduate Lee H. Hamilton in 1987; Emory University President James T. Laney in 1990; Vice-President of the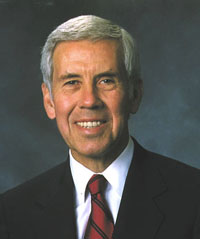 United States Dan Quayle (DePauw 1969) in 1990; and civil rights leader and 1957 DePauw graduate Vernon Jordan in 1993.
[DOWNLOAD VIDEO: "DePauw Interns" 236KB]
[DOWNLOAD VIDEO: "Life's Calling" 425KB]
[DOWNLOAD AUDIO: "Life's Calling" 224KB] "I hope that calling will mean for each one of you as graduates a wonderful marriage, children, a career and vocation that will give you satisfaction and adventure each day and at least a portion of that time in public service."
Now serving an unprecedented for Indiana fifth term in the United States Senate, Senator Lugar has been instrumental in Senate ratification of treaties that have reduced the world's use, production and stockpiling of nuclear, chemical and biological weapons. As Chairman of the Agriculture Committee, Senator Lugar championed the landmark 1996 federal farm program reforms, ending 1930's era federal subsidies and production controls. In his two terms as Mayor of Indianapolis, he oversaw a plan called "Unigov", which unified the city and surrounding Marion County into one government. Lugar was a candidate for the Republican Presidential Nomination in 1996.
Lugar urged the young graduates to become involved in making the world a better place. "You will enjoy it, you owe it to your country and yourselves, and it is a calling which is celebrated
so well by the life of John McNaughton."
[DOWNLOAD VIDEO: "Medal Awarded" 631KB]
[DOWNLOAD AUDIO: "Medal Awarded" 335KB] "It has been said that you exemplify how men can achieve power and wield it to include and accommodate many points of view," said DePauw President Robert G. Bottoms as he presented Lugar with the award. "You have long been a friend to DePauw University and its students and faculty: visiting our campus and encouraging DePauw students to develop their talents while always remembering to give back to the community and others," Dr. Bottoms told Lugar. "Today we show our continued appreciation of your contribution to the community, our nation, and the world with one of the highest honors given by DePauw University, the McNaughton Medal for Public Service."
For more coverage of Commencement 2001, click here and here.
Back