Prof. James Beckel Quoted in Indianapolis Star Article on ISO's Leppard
May 20, 2001
May 20, 2001, Greencastle, Ind. - James A. Beckel, Jr., professor of trombone at DePauw University and the principal trombonist of the Indianapolis Symphony Orchestra, credits ISO Conductor Raymond Leppard with improving the quality and reputation of the orchestra. Beckel is quoted in a front-page article in today's edition of the Indianapolis Star on the upcoming retirement of Maestro Leppard.
In the piece, entitled "Leppard steered ISO to fame, fortune," Beckel tells writer Whitney Smith, "I've always thought of a conductor as a kind of teacher. When you have 80 or 90 players, you have people who studied with many great teachers. Yet the conductor is supposed to take us to the next level, and Raymond does."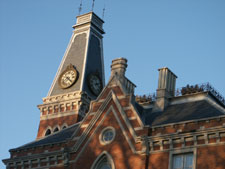 In addition to his teaching at DePauw, and performances with the ISO, Beckel is also a composer. His horn concerto, "Glass Bead Game," was nominated for a Pulitzer Prize and can be heard on the DePauw University Band's CD Airs & Dances. Another Beckel composition, "American Dream," has been performed by many of the major orchestras and bands in the United States, and was recorded on the DePauw Band's 1998 CD Shadows of Eternity.
To read the Star article, go to: http://www.indystar.com/print/articles/leppard20.html.
Back