Liz Welter '00 'Crafts' New Business, Draws Indianapolis Star Attention
July 26, 2001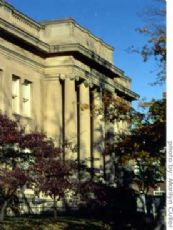 July 26, 2001, Greencastle, Ind. - DePauw's tradition of entrepreneurial alumni has another example: Liz Welter. The 2000 DePauw graduate recently opened Pottery By You, a paint-your-own-pottery studio on the northwest side of Indianapolis. The daughter of a Valparaiso, Indiana banker, and a communication major at DePauw, Welter is stepping outside of the box with her new venture, which is the subject of a large article in the the business section of today's Indianapolis Star.
The 23-year-old Welter told the Star, "I've found that a lot of the people I've worked with have been really nice because they understand what it's like to start up a business." The shop opened earlier this month, offering customers the opportunity to select a piece of unfinished pottery, which they then paint. Welter then fires and glazes the pieces and returns them to the customer.
The article makes two mentions of DePauw, and describes

how Welter became interested in the business concept, and the thought process and risks she's undertaken as she's embraced her entrepreneurial challenge. You can read the article by clicking here.
Back