DePauw "Broadened My Horizons," Spingarn Medal Recipient Vernon Jordan '57 Tells NAACP Convention
July 12, 2001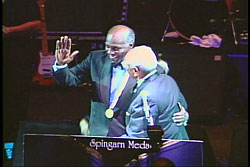 July 12, 2001, Greencastle, Ind. -
[DOWNLOAD VIDEO: "Accepts Award" 1636KB]
[DOWNLOAD AUDIO: "Accepts Award" 94KB] "I thank you for this precious and memorable moment in my life," Vernon Jordan told delegates to the National Association for the Advancement of Colored People Convention, as he accepted the 86th Spingarn Medal, the NAACP's highest honor for achievement. In his powerful address, delivered in New Orleans tonight, the 1957 DePauw University graduate and Trustee traced the path from his boyhood in Atlanta, to becoming a leading figure in the civil rights movement.
[DOWNLOAD AUDIO: "Help" 164KB] "It's a long, long way from the University Homes housing project to the Spingarn Medal," Jordan told the cheering crowd. "And as I look back on that long, tough, curvy, pot-holed journey, one thing is perfectly clear -- I did not get to this place by myself."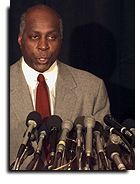 Vernon Jordan recounted the people and places that helped him progress in his personal development, including his alma mater in Greencastle.
[DOWNLOAD VIDEO: "DePauw" 902KB]
[DOWNLOAD AUDIO: "DePauw" 55KB] "DePauw University and Howard University Law School were important stops on the journey, for they expanded my mind and broadened my horizons."
After receiving his law degree, Jordan became involved in the civil right movement. He led a voter education project to register black voters in the South, and interacted with some of the movement's pioneers.
[DOWNLOAD AUDIO: "Pioneers" 138KB] "Driving Roy Wilkins to Macon, Clarence Mitchell to Columbus, Gloster Current to Greensboro, Bob Carter to Augusta, Ruby Hurley to Savannah were mobile classrooms where I got my graduate education in the civil rights movement, learning
first hand from the masters of the trade," Jordan recalled. "I thank them tonight."
Jordan later became president of the National Urban League. In the 40 years since he became a soldier in the battle for equality, Jordan says much has changed.
[DOWNLOAD VIDEO: "Changed America" 1229KB]
[DOWNLOAD AUDIO: "Changed America" 80KB] "Look what we have wrought, and we changed America," Jordan exclaimed. "We changed America with our brains, our blood, our sweat, our tears, our tired feet and our beat-up heads."
In 1963, Jordan says 4% of black Americans had college degrees. Today, it's 17%. In 1960, there were fewer than 2,800 black attorneys and judges. The total now exceeds fifty thousand. About 300 African-Americans held elected offices across the nation in 1962. That figure has swelled to 9,000. And a 1999 survey found there were 95,726 black engineers in the USA, a ten-fold increase from 1960's 9,472.
[DOWNLOAD AUDIO: "Fair Share" 178KB] "We have, in fact, changed America and the world... because we know that this land is our land, too. And all we want is our fair share."
The Spingarn Medal was presented by The Rev. Dr. Gardner Calvin Taylor, a recipient of the Presidential Medal of
Freedom, and senior pastor emeritus of the Concord Baptist Church of Christ in Brooklyn, New York. Jordan called Dr. Taylor his "friend and personal pastor."
Vernon Jordan is the second DePauw alumnus to receive the Spingarn Medal. Percy L. Julian (DePauw 1920) was honored in 1947 for his work in chemistry.
Jordan currently serves as a senior managing director for the New York investment firm Lazard Frères & Co. He was an adviser to Presidents Carter and Clinton. His memoir, entitled Vernon Can Read!, will be published in October.
Jordan says while black Americans have moved closer to equality, the battle is not yet won. He encouraged his audience to soldier on, remembering the early days of the civil rights movement.
[DOWNLOAD AUDIO: "A Revolution" 149KB] "It was a revolution as defiant as the Boston Tea Party; a revolution as basic as the agricultural revolution; as important as the industrial revolution; and... as smart as the information age revolution," Jordan asserted. "Indeed, it was a revolution that saved America's soul."
Back