Busy Summer for Award-Winning Poet Eugene Gloria
August 7, 2001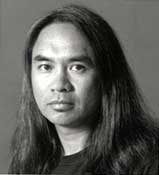 August 8, 2001, Greencastle, Ind. - J. Eugene Gloria, winner of the 1999 National Poetry Series, has amassed more honors over the summer. The assistant professor of English at DePauw University received fellowships at The MacDowell Colony in New Hampshire and the Ledig-Rowohlt Foundation at Le Château de Lavigny in Switzerland. Gloria also had poems accepted for publication in the North American Review, Greensboro Review, Oxford magazine, Clackamas Literary Review, and the Asian American Writers' Workshop Anthology. The poet was also nominated for a Pushcart Prize, which recognizes the best fiction, essays, and poetry found outside the commercial mainstream.
Eugene Gloria studied at San Francisco State University, Miami University of Ohio, and the University of Oregon. His first collection of poems, Drivers at the Short-Time Motel, was selected for the 1999 National Poetry Series and was published by Penguin Books. You can read more about the
book, and order it, by clicking here or here.
In reviewing Drivers, Louis McKee wrote in the Library Journal, "Gloria's poems are complex and exciting, accessible yet layered. It is a rare pleasure to find poetry as intelligent and as well tuned as his."
Eugene Gloria is one of two national award-winning poets teaching at DePauw. Assistant professor of English Maurice W. Manning was selected last year for the Yale Series of Younger Poets, the longest-running poetry prize in America.
Back