Students: Learn More About An Experience You Can't Help But Dig
August 22, 2001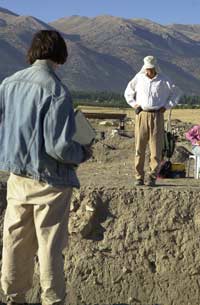 August 22, 2001, Greencastle, Ind. - DePauw students interested in archaeology are invited to attend informational sessions on the Summer 2002 archaeological field season at Hacimusalar Mound at Elmali, Turkey. Over the past two years, five DePauw students have participated in the project, a collaborative archaeological dig involving faculty and students from both the United States and Bilkent University in Turkey. You will have three opportunities to learn more about the survey-excavation project in southwestern Turkey that will take place during June-August 2002.
Assistant professors of classical studies Pedar W. Foss and Rebecca K. Schindler will be making two presentations in Watson Forum of the Pulliam Center for Contemporary Media. The first takes place Tuesday, September 4th at 7:30 p.m., with the second on Thursday, September 6th at 1 p.m. The informational sessions will last approximately an hour each, with an opportunity for students to learn more about the project and how to apply. Additionally, on Wednesday, September 5, at 12:30 p.m., student participant Rose Silpayamanant will make a presentation in the HUMP.
More information and an application form can be accessed here. More information on the Hacimusalar project, a site that was home to various populations for some 5,000 years-- ranging from the Neolithic to the Byzantine eras-- is also available at this Web site.
Back