Christmas Comes Early for ITAP Apprentices
August 24, 2001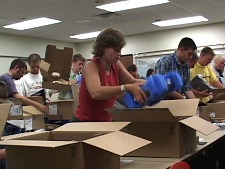 August 24, 2001, Greencastle, Ind. - It was a warm August day, but it almost seemed like Santa was making his rounds at the Julian Science and Math Center. Yesterday, the first 24 apprentices in the Information Technology Associates Program (ITAP) were each given a laptop computer. The Dell PCs will be the first-year students to use as long as they're in ITAP, which is one element of DePauw's new eLearning initiative.
[DOWNLOAD VIDEO: "The Front Line" 904KB]
[DOWNLOAD AUDIO: "The Front Line" 172KB] "You are in the trenches now, about to be the front line of the student staff that will become both more proficient in these things for your own benefit, and for the benefit of the whole University," Abraham said.
The 24 apprentices will be mentored by twenty one sophomores, juniors and seniors who were selected a few weeks ago to serve as ITAP associates. The associates also received laptops in a separate session.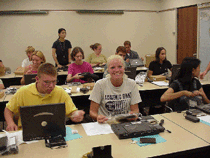 More than 5% of the incoming class applied to join ITAP as apprentices, and develop high tech skills to complement the reading, writing and quantitative abilities that DePauw has provided its graduates for generations.
The eLearning initiative was announced in March, 2001 with a $20 million grant from Lilly Endowment. Besides ITAP, eLearning at DePauw will result in more than half of the University's 84 classrooms and seminar rooms becoming technology enhanced; provide technology skills workshops and certification for all students; enhance library electronic services and subscriptions; create new off campus internships with Indiana technology companies; more workshops for DePauw faculty to learn how to improve teaching through technology; and opportunities for faculty from other schools on the use of technology in instruction in the liberal arts.
The center for eLearning will be headquarted in the Julian Center, which is in the midst of an expansion that will
double the building's size (to 240,000 square feet) and renovate its existing space. DePauw is also erecting a new building for the teaching of the arts which will also be equipped with the latest technology.
Before the freshmen began prying open the boxes holding their new high tech tools, Dr. Abraham said to the latest generation of DePauw problem solvers,
[DOWNLOAD VIDEO: "Thank You" 840KB]
[DOWNLOAD AUDIO: "Thank You" 68KB] "Thank you very much for agreeing to do this. There will be bugs organizational, financial, operational, philosophical and we expect you to find them and help us fix them."
Back