DePauw Entrepreneur's 'List' in Cincinnati Enquirer
October 4, 2001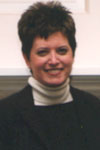 October 4, 2001, Greencastle, Ind. - "In 1995, soon after graduating from DePauw University, (Angie) Hicks started her venture in Columbus (Ohio)," writes the Cincinnati Enquirer's Jenny Callison. In an article entitled, "Tired of lousy service?: Angie's List finds many who say Yes!," Callison profiles the DePauw alum who turned an idea-- creating, maintaining and selling a list of home service providers (such as electricians and plumbers) with a track record of satisfying customers-- into a very successful business.
"I had 100 square feet of office space, a borrowed computer and a phone," Hicks said in the September 7, 2001 Enquirer article. "I set everything up on a card table and worked by myself for nine months, selling memberships door to door." Angie's List is now operating in a dozen cities, with total membership at approximately 65,000.

You can read more about the uncommon success of this DePauw alumna by reading the full Enquirer article, click here. A May story from the Indianapolis Business Journal is summarized in this previous story.
You can learn more about other DePauw entrepreneurs who will gather on campus for a two-day symposium this weekend by clicking here.
Back