"Genius Brings Wit, Wisdom" to DePauw: Indy Star
October 4, 2001
October 4, 2001, Greencastle, Ind. - A column in today's Indianapolis Star, entitled "Comics genius brings wit, wisdom here," includes an interview with Pulitzer Prize winning artist Art Spiegelman and promotes his two-day visit to DePauw University, which concludes today (for details, and a summary of Spiegelman's Wednesday night lecture, including audio and video clips, click here).
The Star's Ruth Holladay writes of Spiegelman, "he is to contemporary comics what Charlton Heston is to the National Rifle Association (Blam!) or Carl Sagan to astronomy (Oh my stars!). He is the point person, the keeper of the flame, the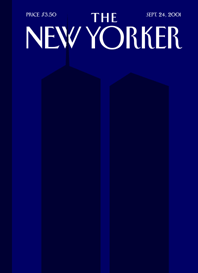 high-end, Pulitzer Prize-winning artist, writer and genius explainer."
Spiegelman's most recent work, the cover of New Yorker following the terrorist attacks of September 11, is the latest in a long line of thought-provoking creations. "In case you missed it -- it sold out immediately -- it is a study in spare despair," Holladay writes. "At first glance, it seems pitch-black. Then the eye slowly picks out the even darker ghostly silhouette of the World Trade Center's twin towers."
You can read Holladay's column online, in its entirety, by clicking here.
Back