Tigers Defeat Sewanee 34-18
October 6, 2001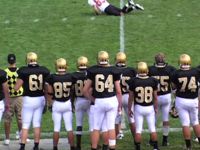 October 6, 2001, Sewanee, Tenn. - DePauw's football Tigers upped their record to 2-3 with a win in Tennessee over host Sewanee. Quarterback Jason Lee passed for 353 yards and four touchdowns, as the DePauw offense rolled up 447 yards.
You can read a complete game summary, and view statistics, by clicking here.
The Tigers return home this Saturday, October 13th for a 1:30 p.m. game against Blackburn College.
Back