'Kremmling Series': Photo, Video Exhibit on Display through November 18
October 9, 2001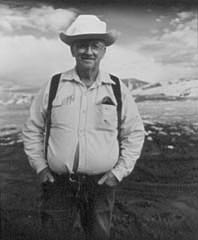 October 9, 2001, Greencastle, Ind. - A series of photographic and video portraits of individuals and families who, despite great obstacles, continue to make their living off the land (Porky, 1997, is seen here), will be on display at DePauw University's Emison Art Center through November 18, 2001. The Kremmling Series is the work of Andrea Wallace, a member of the art faculty at Willamette University in Salem, Oregon.
Wallace will present a lecture at 7:15 p.m. tonight, Tuesday, October 9, 2001 in Watson Forum of the Pulliam Center for Contemporary Media. Her exhibition will open Wednesday, October 10th in the Emison Art Center Gallery. That afternoon, artist will be present for a reception and gallery talk from 4-5:30 p.m. The Kremmling Series will remain on view through November 18, but will be closed October 12-21 during DePauw's fall break.
The following is a statement from the artist:
"Portraits have always served as a means of expression and communication for me. Open to multiple interpretations, the representation of a person in two dimensional form engages the viewer and invites the questions: Who is this person? Who is this person in relation to me?

"I am interested in the concept of the camera as an extension of memory. Art critic and author John Berger argues that the photograph is a "trace of an actual event, a trace of a set of appearances". The camera, like the eye, records appearances via the mediation of light. It fixes the images it records and protects those images from supersession. In this way, it is like memory. In my work, I document the present because it is transitory by nature. I seek to capture and preserve the moment, the instant, the expression--at that time, in that place. This defines my work as an artist. By documenting individuals and their stories, I hope to make a broader statement that provokes viewers to question not only the person in the portrait, but something of themselves as well. I encourage viewers to make comparisons of self, time and place.

"The specific project entitled Kremmling began two years ago with the idea of photographing individuals and families who, despite great obstacles, still make their living off the land. At the end of the twentieth century, in an age of computers and high tech industry, I am fascinated with the idea of individuals still living and working so closely with the land. I made contact with several families and spent time photographing and interviewing them about their personal histories and ranching. Many trace their heritage back to the homesteaders of the late 1800's.

"In the history of photography, Kremmling is well known as the setting for W. Eugene Smith's 1948 Life Magazine documentary entitled, The County Doctor. In recent years however, concerns and fears about the future of ranching as a way of life have grown. Cattle prices are down. Many ranchers are forced to sell their land to commercial and recreational developers. Most make more money selling off their valuable property than they ever would in a lifetime of running cattle. Kremmling is becoming a bedroom community for a growing recreation industry in nearby Summit County. In an effort to nourish an exploding population, the city of Denver is purchasing water rights from these ranchers at an alarming rate. Once the water rights are sold, the land is incapable of supporting livestock. It is a critical time in these communities. This way of life, instrumental to the development of the West, is quickly coming to an end. As ranches "go under" or are sold to developers, the landscape itself is forever altered. Condominiums are sprouting where cattle once roamed. The plains are dotted with vacation homes and weekend get-aways.

"Those who choose not to sell out do so for various reasons. Ranching is the only thing many know. They seek to preserve tradition and a way of life for their children and grandchildren. For the younger generation, options in ranching look bleak. Unless the family already owns land, a ranch child has little hope of affording its purchase later. Their only option may be to work as hired help in large-scale corporate-owned operations. The family ranch is disappearing."

-- Andrea Wallace
Gallery hours are Monday-Friday, 9 a.m. to 4 p.m.; Saturday from 10 a.m. to 4 p.m.; and Sunday's 1-5 p.m. Emison Art Center is located at 309 S. College Avenue in Greencastle. For more information, call (765) 658-4336.
Back