Make a Difference Day Participation Up 300%+
October 9, 2001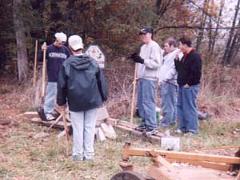 October 9, 2001, Greencastle, Ind. - The event is called Make a Difference Day, and on October 6, 2001, DePauw University students and staff did just that. One hundred sixty people volunteered their time and talents on Saturday, a more than 300% increase from last year's total of 50 participants.
"I'm so pleased that so many people got up early on a chilly weekend morning, when there's a temptation to sleep in, and went into the community to do some good," says DePauw sophomore Katie Findley, a DePauw sophomore who oversaw the effort along with the Hartman Center for Civic Education and Leadership. "The feedback I'm getting is that our efforts put a lot of smiles on local faces, improved the community and established new relationships between the people of DePauw and the citizens of Greencastle," Findley said.
Make a Difference Day projects included a story and craft time for children
at the Putnam County Library, Adopt-A-Grandparent for a Day at Asbury Towers, a canned food drive, preparing Robe-Ann Park for the construction of a new playground and helping to develop DePauw's ropes course.
When the day's work was done, volunteers gathered for a celebratory cookout at the Hartman Center. For more information on volunteer opportunities, contact Katie Findley at the Hartman Center, (765) 658-4863, mailbox 4.
Back