Spotting Lies; Best-Selling Author James Loewen on Campus Wednesday
October 10, 2001
October 10, 2001, Greencastle, Ind. - Sociologist and author James Loewen will spend the day on the DePauw University campus, meeting with students and delivering a lecture. His visit is sponsored by Multicultural Affairs.
James Loewen spent two years at the Smithsonian Institution surveying twelve leading high school textbooks of American history only to find an embarrassing blend of bland optimism, blind nationalism, and plain misinformation, weighing in at an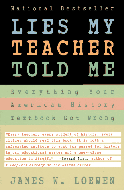 average of 888 pages and almost five pounds. He turned that research into the best-selling book, Lies My Teacher Told Me: Everything Your High School History Textbook Got Wrong. Loewen is also the author of Lies Across America: What Our Historic Sites Get Wrong.
At 12:30 p.m. in the Memorial Student Union Building, Loewen will talk about "Sundowner" towns -- places all over America (including Indiana) where signs posted at the edge of town warned African-Americans not to be seen past sundown or risk brutalization.
At 4 p.m., Loewen will attend a question and answer session in room 105, Harrison Hall.
James Loewen's DePauw visit will culminate with an 8 p.m. speech in the Union Building Ballroom.
An educator who attended Carleton College, holds a Ph.D. in sociology from Harvard University, and taught race relations for twenty years at the University of Vermont, James Loewen has much to say about America, its policies and its people. All three events are free and open to the public.
Back