$57k Federal Grant Will Help Prevent Crime; Educate Campus & Community
October 11, 2001
October 11, 2001, Greencastle, Ind. - The office of the Honorable U.S. Senator Richard G. Lugar today notified DePauw University that it will be receiving a $57,075 grant from the U.S. Department of Justice earmarked for a program aimed at reducing violent crimes against women. The grant is being made under the Violence Against Women Act of 2001, which the Justice Department states, "provides a unique opportunity for institutions of higher education to establish multidisciplinary consortia to combat violent crimes against women on campuses."
"Violence against women is a problem in our society, and our campus is no different than any other college campus," according to Doug Cox, DePauw's Director of Public Safety (seen at right). DePauw has an existing sexual assault task force.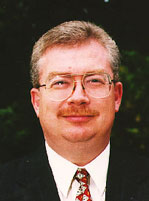 Cox says the new monies will allow the University to "broaden the scope of our existing program to include not only sexual assault, but now, all violence against women. It will specifically include intimate partner relationship violence, stalking and various forms of harassment."
Cox says the grant money will also provide prevention education for male students on the dynamics of sexual assault and dating violence; enhance officer training; allow DePauw to develop and implement a domestic violence policy that will be integrated into the student code of conduct; and partner with the Putnam County Prosecutor's Office to enhance efforts to eliminate domestic violence.
"It enables us to build campus-community coalitions to address these issues," says
Cox. "This isn't just a law enforcement issue or public safety issue. By working with groups such as the Putnam County Mental Health Association, we can broaden the services that are available to respond to victims, as well as be more proactive in prevention and education programs for women on campus and in the community."
The public safety director cites University Police Officer Jill Musgrave (pictured at left) for her work in preparing the grant application. "DePauw has a safe campus," said Cox. "The news we received today ensures that we'll have more resources to educate people, prevent crimes, and continue building upon the community we enjoy living in."
Back